A monster storm is currently moving into Colorado with 36″ forecasted for the San Juan Mountains throughout the coming week. Telluride, Silverton, Crested Butte, and Vail are set to reap the biggest rewards but the majority of Colorado ski areas should see significant snowfall throughout this week.
Wolf Creek Ski Area has already seen 19″ of fresh in the last 24 and it's only getting started…
Let it Snow!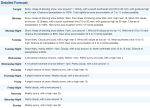 Here are the 5 Colorado Ski Resorts Who Will Get The Most Snow This Week
5)
Vail-

20″
4)
Silverton-

23″
4)
Arapahoe Basin-

23″
3)
Crested Butte-

29″
2)
Telluride-

34″
1)
Wolf Creek-

35″
Winter Storm Warning
NORTHWEST SAN JUAN MOUNTAINS-SOUTHWEST SAN JUAN MOUNTAINS-
907 AM MST SUN JAN 31 2016
…WINTER STORM WARNING REMAINS IN EFFECT UNTIL NOON MST
TUESDAY…
* LOCATIONS INCLUDE THE CITIES OF…RIDGWAY…GLADE PARK…
OURAY…TELLURIDE…LAKE CITY…SILVERTON…RICO…HESPERUS.
* TIMING…MODERATE TO HEAVY SNOW CONTINUES INTO MONDAY
AFTERNOON. LIGHT SNOW CONTINUES INTO TUESDAY MORNING.
* SNOW ACCUMULATION…AN ADDITIONAL 18 TO 36 INCHES OF SNOW
POSSIBLE THIS AFTERNOON THROUGH TUESDAY MORNING.
* WINDS…SOUTHWEST 15 TO 20 MPH WITH GUSTS UP TO 35 MPH INTO
MONDAY MORNING.
* VISIBILITY…REDUCED TO LESS THAN 1/2 MILE AT TIMES IN
MODERATE TO HEAVY SNOW AND BLOWING SNOW.
* IMPACTS…TRAVEL WILL BECOME DIFFICULT. BE PREPARED FOR WINTER
DRIVING CONDITIONS.
PRECAUTIONARY/PREPAREDNESS ACTIONS…
A WINTER STORM WARNING MEANS SIGNIFICANT AMOUNTS OF SNOW ARE
EXPECTED OR OCCURRING. STRONG WINDS AND BLOWING SNOW ARE ALSO
POSSIBLE. THIS WILL MAKE TRAVEL VERY HAZARDOUS OR IMPOSSIBLE.