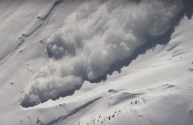 Avalanche season is really ramping up in the Pacific Northwest and with 71" of snow falling so far this year, Stevens Pass is already encountering persistent slab avalanche problems (not to mention wind slabs and storm slabs). 
Avalanche observation of a skier-triggered avalanche on the backside of Stevens Pass that resulted in a full burial of one skier on Sunday December 6, 2015. The backside of Stevens Pass has not be open or controlled this year and is considered backcountry terrain.- NWAC
The Avalanche Danger For The PNW Remains High Today Through Wednesday…

Avalanche @Stevens Pass:
On Sunday, a party of skiers ducked a rope and after traversing onto a slope in the Corona Bowl area. One skier triggered a 1-2 foot deep slide that resulted in her being fully buried with her head roughly two feet below the snow's surface.
Currently the backside of Stevens Pass is considered backcountry terrain. 
Rescue took approximately 15-20 minutes.
Remember, just because a run might exist within the boundaries of a ski resort, not all resort runs are being controlled at all times (hence the rope).
Northwest Avalanche Center Report:
We have a report of a skier burial at Stevens Pass in Corona Bowl on Sunday. A party ducked a rope and traversed to mid slope and the skier triggered a 1-2 foot x 100 foot crown and was buried with her head at about 2 feet below the surface and was dug out in about 15-20 minutes. The avalanche was on a southeast facing slope at about 5000 feet and ran on the November crust. Control at the ski area Sunday also gave widespread releases of the recent snow mainly on northwest facing slopes with crowns to 25-30 inches also running on the late November crust.


Follow the Northwest Avalanche Center Here: www.nwac.us