Last Round of the ProBASE World Cup.
40 of the world´s best wingsuit piltos from 17 nations will meet at the ProBASE Wingsuit Race 2012 in Stechelberg in the swiss valley of Lauterbrunnen from September 13th to 16th 2012.
This extreme challenge will determine who is the fastest man in a Wingsuit and who will become BASE Jump World Champion 2012.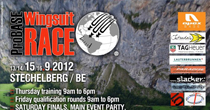 Held for the 4th year in a row as the final Tour stop of the ProBASE World Cup Tour, the worlds largest BASE Jumping and Wingsuit Racing competition series, this race is considered the highlight of the BASE Jumping season, rounding off the summer and crowning the BASE Jump World Champion  2012 in the place that is known as the Mekka of BASE Jumping.
The race is held in elimination mode where 2 pilots jump from a platform on a sheer cliff 700 meters above the valley at the same time, trying to cross a predetermined finish line  as fast as possible before opening their parachutes and landing safely on the main event grounds.
After 3 qualifying rounds, the winners of the semi final heats progress to the final round where the winner will be determined. During their 20 seconds of winged flight the pilots travel roughly 900 horizontal meters and reach speeds of up to 180 km/h.
Special safety rules are in place in order to avoid so called "lowpulls" and other dangerous maneuvers in an attempt to keep the race as safe as possible in a sport that carries its natural risks, and pilots face disqualification if they don´t adhere to them.
The favorites to win the race are far spread this year, but frenchman Ludovic Woerth is one of the top challengers for the title. Considered the overall best Wingsuit pilot in the world at the moment, winning the race is whats missing on his resume. Close challengers are norwegian Espen Fadnes, winner in 2010, swiss local Matthias Wyss, last years winner Dave Barlia from the US as well as Tony Urugallo form the UK, winner of this year´s World BASE Race in Norway in July.
A special treat will be the presence of Englishman Gary Connery who has risen to international fame recently after becomming the first human being to land a wingsuit without the use of a parachute!
video from the Kjerag event in southern Norway.