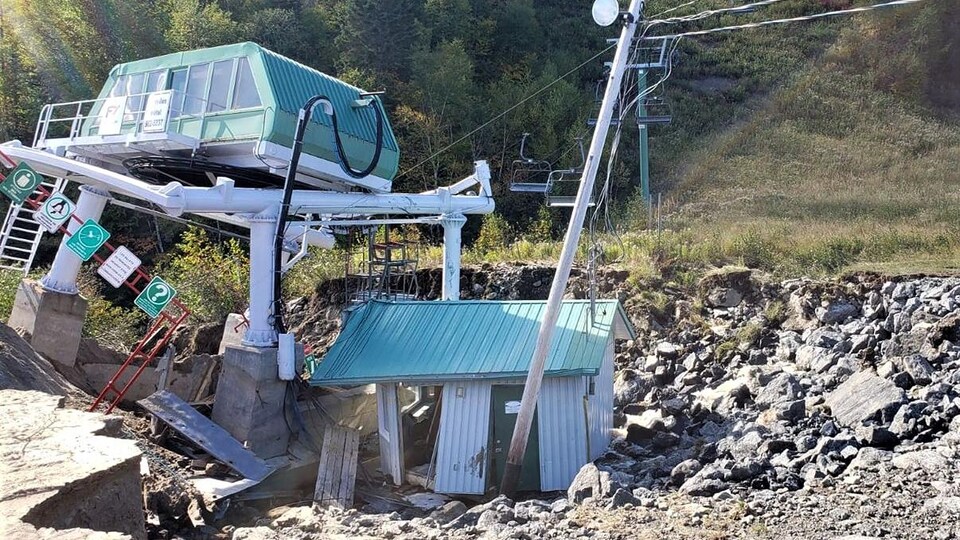 The ski season at Station Gallix in Québec is in jeopardy following a major rainstorm. According to CBC Radio Canada, the rain caused the ground to collapse from a landslide, leading to a currently unstable surface that should be avoided by everyone. The ski area fears that the cables are under extreme tension, and could collapse at any time. This is the only chairlift that services the summit of the mountain, so without the lift being in stable condition, the lift's readiness for ski season could be in peril. On Wednesday, officials from Doppelmayr went to access the scene and prepare to make recommendations on how to restore the lift to its previous condition.
Ski area officials expect financial assistance from the local cities, mining firms, and other companies in getting the mountain open. The time frame though is the big question mark.
An official statement that is translated from French to English is below.
Translation, (Tuesdays Post): "The Gallix station team is working hard to secure the perimeter of the ski lift while waiting for the arrival of the supplier's inspectors. We ask you during this time not to go to the scene due to the extreme danger that the stability of the ground and the structure of the chairlift could represent. It is still early days to conclude anything regarding the 2021-22 season. We will notify you as soon as we have more information. Thank you for your words of encouragement and understanding."
(Yesterdays Post): "Engineers from Doppelmayr, our chairlift supplier, are here today to make an initial assessment of the situation. After their analysis, they will make recommendations to us, which will help us put in place an action plan. Your words of encouragement and all the help offered warm our hearts. We thank you for that. We will keep you posted as the situation evolves. In the meantime, we still ask you not to move on the premises, since the structure has still not been secured and is still under tension. Thank you for your understanding."
Station Gallix is located in Sept-Îles, Québec, and is situated right next to the St. Lawrence River. The mountain features twenty-two runs, two lifts including the embattled chairlift, a terrain park, a tubing park with a surface lift, snowshoeing, and off-piste terrain. This fix-grip quad was installed around twenty years ago, and cost around $1.5 million Canadian dollars at the time of installation. We shall see if this lift can be saved, as the repair costs and battles with an unstable surface could become a massive challenge for the mountain.
Image Credits: Station Gallix, CBC Radio Canada