Have you ever spent a day on I-70 wondering why the hell the right lane is the fast lane? Or maybe you asked the inevitable question, "are Colorado drivers the worst in the country?" Better yet, "is everyone behind the wheel completely blazed right now? "
Related: Huge Boulders Fall On I-70 In Colorado
If so, you're not alone according to a study completed by auto insurance expert, QuoteWizard. By combining metrics such as speeding tickets, DUI's, car accidents, traffic citations, and car-related fatalities, the insurance consultant group has given a list of their worst driving states.
"Surprising for a state known for its non-drinking populace, Utah actually made the top 10 for DUIs, coming in at number nine." –Cate McGehee via QuoteWizard
Among the top 10, 5 mountainous states claim a high degree of being shitty drivers with Utah pulling down the #1 spot followed by #2 California and #8 Colorado. Utah boasts the #2 spot for speeding tickets and accidents along with a #9 ranking for DUI's which combined to make it the worst driving state in the union.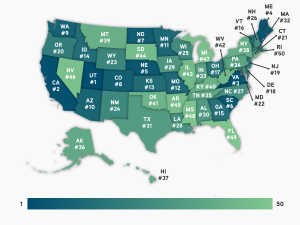 Photo Credit: QuoteWizard.com
Worst Drivers – State by State
10) Arizona
9) Washington
8) Colorado
7) North Dakota
6) South Carolina
5) Nebraska
4) Maine
3) Virginia
2) California
1) Utah