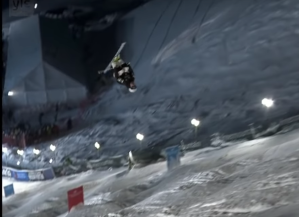 As the saying goes…when in trouble, tuck for a double. Japanese mogul skier Daichi Hara went absolutely mental with this double backie in the semi-finals last night a the 2019 FIS World Championships in Deer Valley. Jonny Moseley was calling the event and had the perfect commentary:
"Calling this dual mogul event the other night for Olympic Channel/NBC was making me sweat in the booth all night with Trace Worthington. They kept pushing it faster and faster through the middle then this happened. There is no relief valve when you're that close.
Daichi Hara of Japan is on the right of the screen and Brad Wilson on the left. Brad Wilson is the fastest skier on the tour so when he saw Daichi go by him I wonder what he must have been thinking. I'm impressed he was able to hold it together. The day before Brad took it way past the landing. The run before Daichi took it even further but happen to snag a backside and skied it out. This time he was not so lucky.
He landed this at least three bumps past the end of the landing zone… I'm estimating 70 feet to the frontside of a mogul.. and oh yeah he did a lay tuck.. a double backy. He made the absolute right call. No way he was stretching that out. His execution was perfect, maybe he was a touch short on rotation but he showed incredible air sense based on a lot of training.
If you are in the inverted game remember the training you do is not for the the times it goes to plan. Eventually you always find yourself shot out of a cannon and making mid air decisions. You need many hours doing all variations to build your air sense. Good luck and enjoy. I forgot. He went back up skied another run for third place. Brad Wilson took second. Congratulations."