Living comfortably in a quaint mountain town with rad skiing just miles away is an unfathomable dream for most winter sports enthusiasts.
The lack of opportunities to find decent work in small mountain towns, not to mention affordable living, can push skiers to compromise their dream of settling down in a mountain town. So where do you go ski to get away from the crowds when you live in a city of millions? Fortunately, even in the most crowded centers of North America, just hours away from the hustle and bustle of city life, there exist ski havens whose slopes are legendary.
Las Vegas > Lee Canyon Commute
Distance: To Las Vegas Strip 50 miles
Characterized by its wild nightlife, legal gambling, and the Mojave Desert that surrounds it; Las Vegas, Nevada is not what many think of as a skiing destination.
Surprisingly closer to Sin City than Los Angeles or the Grand Canyon, an overlooked and often under appreciated Nevada ski area's slopes lie in wait.
Nestled below the formidable 11,916 foot Mt. Charleston, Lee Canyon Ski Area has the necessary elevation and infrastructure, to consistently offer conveniently close skiing and snowboarding for Las Vegas residents and tourists.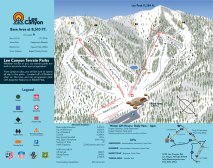 A quick glimpse at the Lee Canyon trail map might mislead you to believe this ski area doesn't have challenging terrain. Admittedly, the ski area only offers 900 feet of vertical gain from its two main chairlifts.
But for those lucky enough to time a big winter storm, the upper hiking access at Lee Canyon is a very impressive, experts-only area with serious lines. Bristle Cone Ridge, The West Bowl, and Dolomite are all accessible from gates above the chairlift and bring a big mountain atmosphere for those willing to earn their turns.
Also Read: Salt Lake City & Brighton
The ski area also features a variety of terrain features including boxes, rails and jumps; across two different parks. Lee Canyon Ski Area is also currently working with the US Forest Service to improve and expand their skiable terrain with new lifts and acreage. The main two-lift system has been in place since the ski area opened to visitors in 1964.
Lee Canyon Stats:
Average Snowfall:

161″

Lift Served Vertical Drop:

860 feet.

Hiking Vertical Drop:

1,919 feet

Base Elevation:

8,510′ feet

Summit Elevation:

11,289 feet

Trails:

27

Lifts:

3

Snowmaking:

35%
The Lee Canyon Atmosphere:
A trip to Lee Canyon Ski Area will transport you from the low-lying 2,000 foot elevation of the Las Vegas Valley and the Mojave Desert ecosystem to a mountainous alpine zone complete with conifers and snow-capped peaks.
Although the ski area is remote even by Nevada standards, the resort is able to operate successfully by employing diesel-powered snowmaking and solar panels for electricity. This allows the ski area to operate during even the leanest of snow years.
Lee Canyon Ski area is often overlooked for the larger Brian Head, UT (3 hours away) or Mammoth Mountain, CA (5 hours away) but for Vegas locals who just want to rip up some groomers without making a major trek, the local ski hill is a blessing from above.
(The Line Traveling Circus Crew Rips Lee Canyon Terrain Parks  @8:05)
If Las Vegas becomes your next destination for a shotgun wedding or work conference, don't fret, you can still sneak away to the mountains and get some skiing in. You may have to show you friends video-proof that quality skiing does exist nearby the extreme landscape of Las Vegas. Undoubtedly though you won't find large crowds, an overly pretentious vibe or outrageous lift ticket prices at this classic small ski area. For those not amused by casinos, shows, or the darker side of Sin City; Lee Canyon is the perfect outdoorsy oasis.
Find out more here: Lee Canyon