Following close behind the dreaded phrase, "highs in the upper 50's today," comes the inevitable follow-up: "End of Season – Ski Sale."
Spring ski discounts, while a good way to keep the stoke flowing through summer, are overrated for many reasons. Whether it's because that demo ski has been beaten within an inch of its life or because 30% off retail means the sale price is $599– here are a few reasons to stick with the trusty ol' boards for one more year of snow sliding.
You may not like them…
There's nothing worse than buyer's remorse after throwing down on new skis. Just so happens buyer's remorse occurs way more during end of season ski sales. Which leads us to the question every end of season buyer should ask themselves, "why didn't this ski ever get sold in the first place? "
Learn to tune the skis you have…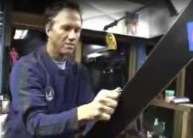 There's little difference between how a ski performs on its first day of use vs. its 100th. Actually, most skis will ski better after a couple of tunes for two reasons. The first has to do with how many factory skis come off the line. Mass manufactured skis usually come out "base high" and won't ski flat until a tuner puts the ski on a belt grinder. Secondly, no factory wax will ever match the temperature correctly. Avoid these two debacles by sticking with your old skis and doing minor tune jobs along the way.
Not much has changed…
Each year the ski industry names new gimmicky technological advances that do little to actually advance the sport. Since the innovation of "rocker" technology, skis have remained basically the same. In fact, most skis are getting progressively narrower for weight reasons– what's old is new…
Save up for new boots instead…

Any skier will tell you that the most worthwhile purchase is a pair of bomber ski boots. So instead of buying a pair of flashy new skis, save up for a Lange RX series ski boot and enjoy powder skiing how it's meant to be enjoyed.
The 2018 graphics look SICK!
Seriously– those graphics look ILL!…