A Routt County man is dead after getting caught in an avalanche in the Flat Tops Wilderness south of Steamboat Springs  reports The Steamboat Pilot.
The victim was riding a timbersled on Tuesday morning with Sean Tyler Searle of Franktown, CO when the avalanche occurred. The avalanche danger was rated as "moderate" at the time of the slide and the death marks the first avalanche fatality recorded in Colorado this season.
After finding the deceased person's body in the slide path, search and rescue personnel followed boot tracks and an arrow etched in the snow accompanied by the word, "HELP." Those clues would eventually lead personnel to find a completely exhausted Searle at approximately 4:15pm. He too had apparently been caught in the slide but was able to dig himself out and perform CPR on his partner. Those attempts were unsuccessful.
Searle was later reunited with his wife Stacy at the Search and Rescue staging area but due to lack of daylight, the deceased person could not be recovered at the time. Local authorities plan to extract the body sometime Wednesday morning.
Avalanche Summar (CAIC)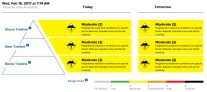 There was an avalanche fatality in the Flat Tops on Tuesday. The avalanche occurred below treeline on a steep, shady slope. CAIC staff will visit the site today to gather more information. We will update the preliminary report as details are available.
Find up-to-date avalanche advisories here: Colorado Avalanche Information Center