The snow has returned to the Tetons and as is true with any significant loading event– the avalanche danger has also spiked in recent days.
Related: The Best Avalanche Safety Video Ever! #KBYG
In the early morning hours, WYDOT officials closed Teton Pass to conduct avalanche mitigation on Mount Glory. The mitigation efforts resulted in a slab avalanche on the east aspect of Glory. The recent avalanche activity should serve as a prominent red flag for any backcountry travellers in the Tetons this week.
Bridger Teton Avalanche Advisory (12/5/16)

Jackson, WY 12/5/16 – Strong winds continue this morning and combined with two feet of new snow have created dangerous conditions. At 3 AM the WYDOT was able to trigger a slab avalanche on an east aspect of Glory Bowl that ran to the highway. Dangerous deep slabs are a hazard at the upper elevations and surface slabs formed by strong winds present a hazard at all elevations. Careful snowpack evaluation, cautious route finding and conservative decisions are essential for safe travel in avalanche terrain today.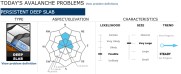 FORECAST FOR

Monday, December 05, 2016
A strong jet is steering a plume of Pacific moisture into western and northern Wyoming. A cold front is moving in from the northwest and is forecast to pass through our area around midnight. Present snowfall rates are around two inches per hour. These high snowfall intensity rates are expected to continue until the cold front passes. The snowfall will continue at decreasing rates into the morning hours before tapering to snow showers during the day. Additional accumulations of 8 to 15 inches are expected during the next 24 hours. This set up will favor the Teton Range.
Temperatures will drop into the single digits after the passage of the cold front and are expected to fall well below zero on Monday night as cold air moves in behind the departing storm system. Winds will veer to the northwest and continue at speeds of 25 to 30 with gusts to 50 miles per hour until the morning and then decrease to 20 with gust to 30 for the remainder of the day.
The avalanche hazard is expected to peak around the time of the passage of the cold front around midnight and then slowly decrease on Monday as the snowfall intensity drops off, cold air moves into the region and winds very slowly decrease. The general avalanche hazard on Monday is expected to be CONSIDERABLE at the upper elevations and MODERATE at the mid and lower elevations. Persistent deep slabs with depths to five feet and wind slabs with depths from one to three feet could be human triggered or release naturally in steep avalanche prone slopes at the upper elevations. Winds slabs with depths up to three feet deep could be human triggered in steep avalanche terrain at the mid and lower elevations.
Sign up for the Bridger Teton Avalanche forecast emails here: Forecast Subsricption