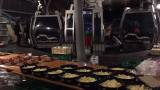 "If we heard that somebody starved to death in Sweden or Switzerland, we would be shocked." – PJ O'Rourke (*Courtesy of Brainy Quote)
[All photos courtesy of Fondue In The Sky]
And while that quote is a wild generalization by a former National Lampoon editor, recent news out of Switzerland is not helping the stereotype.
Related: Snowflake Explains His Passion For Skiing
The Telegraph is reporting that a gondola in Villars, Switzerland will be transformed into a 3-course restaurant specializing in fondue in order to honor the resort's 150 year old history.
The gondola experience recently won the 2017 European Award for "Most Unique Restaurant Of The Year."
Titled, "Fondue In the Sky," the fondue party will only be a one time thing on February 25th and will offer guests dinner with a view of Mont Blanc. The price? $85/person (not bad…).
Find out more here: Fondue In The Sky