Almost two months since the public release of their "game-changing" Karma Drone, GoPro announced last week that they will be recalling the drone following some issues with the battery.
Related: Here's Everything You Need To Know About GoPro's "Karma" Drone
According to Outside Online, GoPro made the announcement on Tuesday that they will recalling approximately 2,500 units due to reoccurring, spontaneous battery failure, which has occurred mid-flight in some situations.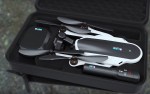 GoPro's Recall Announcement
(Nov – 8) – Today we announced the recall of the approximately 2,500 Karma drones purchased by consumers since October 23. The recall was announced after GoPro discovered that in a very small number of cases, Karma units lost power during operation. No related injuries or property damage have been reported.
Owners of Karma can return their units to GoPro, or their place of purchase, for a full refund. Replacement units are not being offered. GoPro plans to resume shipment of Karma as soon as the issue is resolved.
"Safety is our top priority," said GoPro Founder and CEO Nicholas Woodman. "A very small number of Karma owners have reported incidents of power failure during operation. We have moved quickly to recall all units of Karma and provide a full refund while we investigate the issue. We are working in close coordination with both the U.S. Consumer Product Safety Commission and Federal Aviation Administration. We are very sorry to have inconvenienced our customers and we are taking every step to make the return and refund process as easy as possible."
To participate in the recall, visit GoPro's webpage at: www.gopro.com/2016karmareturn