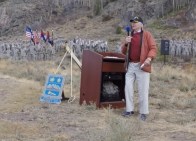 [Photos and Video Courtesy Of The Vail Daily's John LaConte]
In order to honor their steadfast service to our country, 10th Mountain Division servicemen past and present returned to Colorado this past Sunday in a re-patching ceremony at Camp Hale, Colorado reports The Vail Daily.
Related: The 10th Mountain Division | The Men That Started America's Ski Industry
Veterans, soldiers, and national guardsmen were in attendance for the ceremony, which saw servicemen from past and present sharing stories, experiences, and gratitude for their ability to serve in one of the most prestigious divisions in the United States Army.
At its inception, 10th Mountain soldiers were chosen by the National Ski Patrol's president, Charles "Minnie" Doyle and those lucky enough to serve under Doyle were known as "Minnie's Ski Troopers." Doyle's son was in attendance on Sunday and had some poignant words for the crowd, pointing at the looming cliffs above Camp Hale saying, "I know my father is sitting up there… that was his life."(*Quote Courtesy Of The Vail Daily)
The re-patching ceremony is part of a program that will place Colorado National Guard's first battalion of the 157th Infantry underneath the 10th Mountain umbrella– mainly for training purposes.
A Fighting History
Originally, Camp Hale served as one of the main training sites for 10th Mountain troops before they headed overseas to fight in northern Italy. It was at Hale where soldiers learned to climb, ski, and fight in mountainous terrain– skills that would become invaluable as they broke through German lines in a series of battles that would go down in the history books as some of the most strategically significant showdowns in World War II history.
The 10th Mountain is also proud to host one seriously legendary Medal Of Honor recipient in Private First Class John D. Magrath. Since World War II, the 10th Mountain Division has been deployed to Iraq, Afghanistan, and Haiti, serving both as soldiers and humanitarians.
Find the entire Vail Daily article here: 10th Mountain Division back in Colorado