Cover Photo:Krista
Up to a foot of snow forecasted for Mt Hood's summit!
Timberline's summer operations are in full swing on the Palmer Snowfield
While much of the US continues to break heat records this summer, the PNW is already ready for winter.
"Snow levels look to lower to around 6,500 ft late this weekend and could bring a few inches of fresh powder to the High Cascades. Unsettled weather looks to continue through early next week." – NWS Portland
According to the National Weather Service, a blob of cold moisture is forecasted to coat the upper peaks of the Cascades in white this weekend. So far forecasts are calling for up to 3″ of snow at elevations above 6,500′ and 12″ above 10,500. If those forecasted totals show up, Timberline's Palmer Snowfield (6,200′-9,300′) could get a much-needed mid-summer refresh!
NOAA Mt Hood Forecast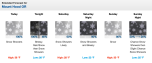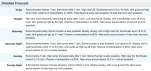 Find updated forecasts for Mt Hood here: NOAA Mt Hood Summit