"Did you know? Cutting down trees and constructing unauthorized trails on BC's Crown land is illegal. Doing so could cost you up to $10,000."
The Government of British Columbia sent a strong message to builders of unauthorized bike trails in their province with a stiff (but polite) warning that those caught in such activities could face fines up to $10,000 and six months in jail.
While you may see your renegade bike trail as harmless fun, but they cite several reasons why they may not be:
soil erosion or soil compaction
negative effects on water quality or water flow
slope stability concerns
negative impacts for other resource users
safety and liability concerns, due to improperly built or maintained trails and structures
the spread of invasive plants
disruption of wildlife habitat or sensitive plant ecosystems
To read the entire press release by the Government of British Columbia go HERE.
This is an image of one of the suspected outlaw trail builders: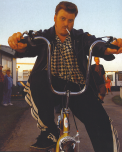 [cover image from youtube.com]