Cover image: Kirkwood Facebook Page
What is being billed by many as the storm of the year, a low pressure storm system is currently moving into the Sierra tonight with over 2 feet of forecasted snow!
Next Week: NOAA Video Shows Massive Snowstorm Headed For California | Forecasts of 5-10 FEET!
As of today, NOAA meteorologists are predicting the storm to come in warm and leave cold, with snow levels dropping to 4,500 feet by late Sunday evening. Today's forecasts show Kirkwood as the clear winner this weekend with up to 43″ of snow by Monday afternoon. Mammoth will also reap snowy rewards due to its high elevation with 22″ of snow by Sunday.
Lake Tahoe resorts should start off with good conditions up high and rain near lake level before the real snow starts on Sunday!
LET IT SNOW!
Here's the Kirkwood Forecast: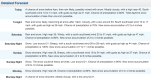 NOAA WINTER STORM WARNING
…WINTER STORM WARNING IN EFFECT FROM 4 PM SATURDAY TO 10 PM PST MONDAY…
THE NATIONAL WEATHER SERVICE IN LAS VEGAS HAS ISSUED A WINTER STORM WARNING FOR HEAVY SNOW AND BLOWING SNOW…WHICH IS IN EFFECT FROM 4 PM SATURDAY TO 10 PM PST MONDAY. THE WINTER STORM WATCH IS NO LONGER IN EFFECT.
* TIMING…SNOW IS EXPECTED TO DEVELOP LATE SATURDAY AFTERNOON AND BECOME HEAVIEST SATURDAY NIGHT. SNOW IS EXPECTED TO TAPER OFF SUNDAY MORNING AND MAY EVEN STOP FOR A FEW HOURS… BUT A SECOND STORM SYSTEM WILL MOVE INTO THE AREA SUNDAY NIGHT AND HEAVY SNOW IS EXPECTED MONDAY MORNING THROUGH THE AFTERNOON BEFORE TAPERING OFF MONDAY EVENING.
* SNOW LEVEL…INITIALLY SNOW WILL BEGIN AROUND 9000 FEET SATURDAY AFTERNOON…BUT FALL TO 6500 FEET BY SUNDAY MORNING. SNOW LEVELS WILL CONTINUE TO FALL TO AROUND 4500 FEET LATE SUNDAY NIGHT AS THE SECOND ROUND OF SNOW DEVELOPS.
* TOTAL SNOW ACCUMULATIONS…TRACE TO 4 INCHES ABOVE 5000 FEET…3 TO 10 INCHES ABOVE 7000 FEET…10 TO 20 INCHES ABOVE 9000 FEET…AND OVER TWO FEET NEAR THE SIERRA CREST.
* WINDS…SOUTHWEST 20 TO 30 MPH WITH GUSTS TO 50 MPH AT
RIDGETOPS.
* IMPACTS…HAZARDOUS TRAVEL AND RECREATION CONDITIONS AS WELL AS POSSIBLE ROAD RESTRICTIONS ACROSS THE EASTERN SIERRA DUE TO SLICK…SNOW COVERED ROADS AND NEAR WHITE-OUT CONDITIONS.
Also Read: How Likely Is A Miracle March?