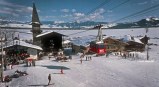 Jackson, WY- As Jackson Hole Mountain Resort approaches its 50th anniversary, the Teton County resort is proud to be different. With the new Teton Lift set to open this upcoming season as well as various events, promotions, and parties surrounding the milestone, JHMR is making leaps and bounds in ways that nobody would have predicted when the resort was founded by Paul McCollister, Alex Morley, and Gordon Graham in December of 1965.
In an interview with the Jackson Hole News and Guide, Resort President Jerry Blann and Chief Marketing Officer Adam Sutner commented on the upcoming anniversary saying, "we'll never be that pure vanilla resort with 20,000 skiers on the mountain at any one given time, and that's the uniqueness about this place."
According to Sutner, "We don't want to be Vail. We like being Jackson Hole." Obviously, most locals feel the same way.
Still, skier visits are up at JHMR, with the resort reporting 546,125 skier visits this past season. That number fell just short of the record setting 2013/2014 season which saw over 563,000 skier visits along with unprecedented amounts of snow in February of 2014. At the end of the day, resort officials are very happy that destination skiers consider JHMR a top-tier resort when it comes to customer satisfaction.
Among other events, JHMR plans to open the brand new Teton Lift on December 19, 2015 to ring in the anniversary in style.