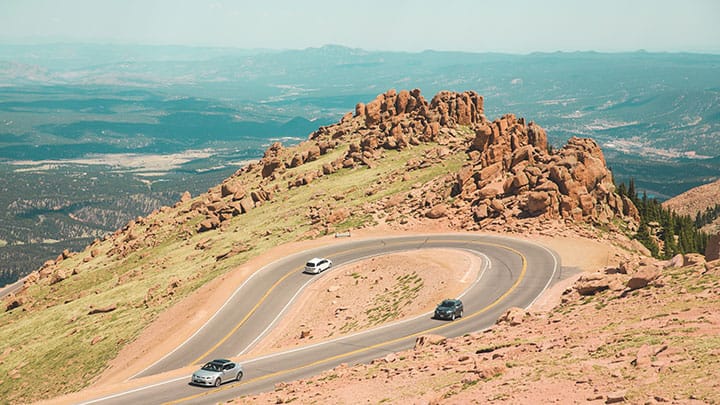 Pikes Peak (Colorado), standing 14,115 feet about sea level, is one of America's most popular tourist attractions.
Most people drive the famous Pikes Peak Highway to the top, but there are only three people who have successfully pushed a peanut with their nose to the summit.
The wacky feat was first done by a crazy Texan named Bill Williams back in the 1920s. Williams pushed a peanut 11 miles near his home after losing a bet, and decided he could up the ante by pushing it up one of America's most-famous peaks.
Click here to watch a video by The Travel Channel explaining the weird history of pushing peanuts with noses on Pikes Peak. (Keep reading below video for upcoming attempt by Bob Salem)
The City of Manitou Springs, CO is celebrating their 150th anniversary by hosting the first peanut push attempt in the 21st century.
Bob Salem will attempt to push a peanut with his nose to Pikes Peak's summit starting on July 9th, 2022. He hopes to complete the feat no later than July 17th, 2022.
Check out the full Facebook post from The City of Manitou Springs below:
"Oddly, three individuals have managed the nutty task of pushing a peanut up the steep slopes of Pikes Peak to its omnipresent summit. In 1963, Ulysses Baxter, the most notable person to perform the Peanut Push, completed the push in a record breaking eight days.

As part of Manitou Springs' 150 Year Celebration of city life, and who we are, Bob Salem is looking to make history – by being the first person in the 21st Century to push a peanut up Pikes Peak with a contraption taped to his nose. This is no easy feat, but with support from the community and region at large, this peanut pusher can cement his place in history! The Peanut Push will begin on July 9th and is tentatively scheduled to finish no later than on July 17th.

Bob Salem spoke on this history making feat and stated, "There is no city like Manitou Springs." He continued, "I am excited to be the one to bring around this bit of history to celebrate Manitou Springs' 150th Celebration. I hope everyone takes the time to visit and indulge in the rich history the Pikes Peak area represents. You won't want to leave."
Anybody else love everything about this story? I'm a fan of weird traditions, and this one definitely checks all of my boxes.
The fact that anybody would subject themselves to more than a week of crawling up a mountain, let alone one of the tallest in North America, and push a peanut with their nose is beyond me, but more power to them!
Stay tuned here at Unofficial Networks for any updates regarding Salem's peanut pushing attempt.
I'm sure there will be plenty of photos, videos, and stories that will come out about it in the coming weeks.
Header Image Credit: Pikes Peak Region Attractions
Featured Image Credit: Pikes Peak, CO- By Hogs555 – Own work, CC BY-SA 3.0