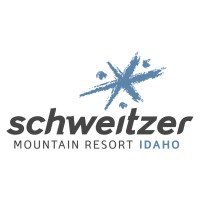 ^Old logo
Schweitzer Mountain Resort, ID has taken a huge leap to rebrand the resort with a more tasteful logo and color scheme.
The new logo features a  tribute to the blackletter crossbar logo from 1963 with a unique style that honors the traditions of Schweitzer.
The resort is also choosing to drop "Mountain Resort" from its name and will simply be called 'Schweitzer' from here on.
The mountain has also adopted a variety of color schemes in which the Schweitzer "S" will appear.
Honestly, I'm a fan of the new Schweitzer branding. It has a very clean and approachable feel that will stand out amongst other resorts whose logos and names are still stuck somewhere in the late-20th century.
A rebranding might not seem like a big move on paper, but it indicates the resort's willingness to adapt and evolve in our ever changing industry.
You can't tell me that "S" wouldn't look sweet on a hat or a t-shirt, either.