We are all chomping at the bit to travel once things get back to normal. It probably won't be this season, but why not start planning for the future?
Hokkaido is the second largest island, and the northernmost prefecture of Japan. It's chalk-full of ski resorts that are home to the famous 'JAPOW' snow that we've all heard about.
Hokkaido is arguably the best powder skiing/riding destination on Earth.
Let's take a look at Hokkaido's world class ski resorts, hidden-gems, and sightseeing spots throughout the region.
Niseko Village is one of four Niseko United Resorts, and is located in Higasiyama on the eastern side of Mt Annupuri. The resort is famous for steep perfectly groomed runs, and an extreme off-piste powder area known as Mizuno no Sawa.
So you know the skiing is great, but what about accommodations? Fear not, Niseko Village offers 4 ski-in-ski-out hotels which offer various levels of accommodation, dining, and service. Among these hotels is Higashiyama Niseko Village, a Ritz-Carlton Reserve.
The hotel offers guests luxurious rooms, a natural hot spring spa, and ample dining options. It is conveniently located within Niseko, making it a perfect lodging option during your stay.
HANAZONO is one of the 4 resorts of NISEKO UNITED sharing Mt. Annupuri, Niseko's main peak, and it keeps its famous powder snow all day long by being on the north eastern side of the mountain.
The development continues with the complete new gondola and current Hana 1 lift being replaced by 6 heater seaters coming up in 21-22 season, after the recently opened Park Hyatt Niseko HANAZONO, a masterpiece 5 star ski-in ski-out hotel offering a modern comfort and a wide range of restaurants at the base of the resort.
As part of the many activities available in the resort, the area's only resort operated back country tours, HANAZONO Powder Guides (HPG) and CAT tour, are not to be missed for those who are after experiencing the best of its terrains covered by the powder snow.
HPG offers the first track in the resort and then tours out of the resort boundaries, while CAT tour takes the guests to have the whole mountain called Weiss Horn to themselves, giving a good chance to experience the back country debutants to experience the powder terrain.
Non-skiers will also have a notable variety of things to do. HANAZONO has all photogenic Snowmobile, Snow Rafting, Snowshoe tours to have the best snow experiece, as well as Tubing park and Indoor activity "Galaxy o Kids" providing great facility for children to enjoy the time in the resort.
Takahashi Farm
A must-see for many visitors to Niseko, Takahashi farm or 'Niseko Milk Kobo' is sure to please children and young-at-heart grown-ups. The farm produces milk that is used to make the delicious cheese tarts and famous choux à la crème (cream puffs) as well as chocolate, drinking yogurt, ice cream, and many other tasty dairy treats.
Located on the road leading up to Niseko Village, Milk Kobo has become a famous icon of the Niseko area and the complex has expanded to include gift shops, restaurants and cheese factory with adjoining pizza restaurant.

Ebisutei
Hirafu in the Niseko area is lined with many restaurants and bars .One of Hirafu's most iconic and well known izakaya's Ebisutei is popular year round with both locals and a huge number of international visitors every year.
Serving a wide variety of Japanese dishes from oden to king crab Ebisutei's signature dishes include zangi on a hot iron plate and a salad that incorporates delicious Kutchan potatoes.
Hokke (whole grilled fish) and sashimi are also excellent while the spicy buffalo chicken wings are a must try! The restaurant is a quaint timber building located in lower Hirafu village, about 200m down from the traffic lights at the main intersection.
Sapporo Kokusai Ski Resort is one of the closest ski resorts to the city of Sapporo (only one hour by car). This ski resort isn't as well known, but is a great place to enjoy some high quality snow that can beat other resorts in the region.

The resort is known for varying levels of groomed terrain, and enough off-piste options to keep skiers of all levels entertained. The varying levels of terrain, dining, shopping options, and ski school make Sapporo Kokusai Ski Resort a versatile destination suitable for the entire family.
You can ski until 10:00PM at Sapporo Bankei Ski Area. Skiers and riders enjoy a total of 17 courses, from gentle slopes suitable for families to advanced courses such as FIS certified moguls and half pipes. The night view of the city is a must-see.
The expanded Snow Park is a snow playground with sledding, tubing, etc., where tourists and children can play safely. A great alternative for those not looking to hit the slopes skiing or riding.
The resort is only a 20-minute drive from the center of Sapporo.
Sapporo Teine is conveniently located only about 40 minutes by car from downtown Sapporo! It is a full-scale ski resort at an altitude of more than 1,000 meters above sea level, spread out on the Mt. Teine-yama, where the 1972 Sapporo Olympics were held.
The 15 slopes offer a wide variety of terrain with the best powder for beginners to advanced skiers.
There is also not only a wide range of attractions including a Dinosaur Kids Park, a terrain park and a beginner snow-cross course but also a ski school and a restaurant, so you can feel at ease with your family and friends.
If the weather is good, you can see not only the city of Sapporo, but also Ishikari Bay, the Mashike Mountains, and even the Taisetsu-zan Mountains.
Odori Park
Odori Park is part of Sapporo's heart and home to many festivals throughout the year. It's an expansive parkland area covering over 12 city blocks. The best pace to catch a view of the park is from the Sapporo TV Tower. The well recognized tower is about 150m tall and is illuminated at night.
It's an iconic landmark and its observation deck provides brilliant views of the park and the surrounding city. From the tower there are uninterrupted views along the length of the park out to the mountains rimming the city's south west.
About two hours and fifteen minutes from Sapporo by car. Furano Ski Resort is a large ski resort that is further inland than other Hokkaido ski resorts. This typically means less moisture, and better snow quality. The resort is split into two zones- The Kitanomine Zone, and The Furano Zone and also has trails that connect the two zones, and a shuttle bus at the bottom.
Skiers will enjoy 28long and well-maintained groomed runs, and a ropeway, gondola lift, and 7 lifts.
A popular lodging option is The Shin Furano Prince Hotel. It's a 12-story hotel that sits at the base of the Furano Zone. Enjoy the in-house hot spring during your stay. Guests can also enjoy après ski at the hotel's top floor bar. Want more après options?
The town of Furano offers dozen of options for food and drink, and can be accessed after taking a cheap bus for 300 yen (~$3 USD).
Ningle Terrace
Ningle Terrace is located next to the Shin Furano Prince Hotel. It's a quaint pedestrian village consisting of 15 charming wooden cabin shops connected by boardwalk between the trees.
The shops are dedicated to Handicrafts inspired by nature motifs, and created by local, and non-local artisans. It will take you an hour to go through the stores one by one slowly.
The candle shop is a popular shop which sells elaborately carved candles that look like wooden logs. Tourists also enjoy the woolen accessory shop, the silverwork jewelry shop, and the wooden toy shop.
The Ningle Terrace is the perfect place to purchase a souvenir to remember your trip to Hokkaido.
Otokoyama Sake Brewery
If you are interested in Japanese sake, why not visit one of the breweries in Asahikawa which is about one hour and fifteen minutes drive from Furano? You can see the museum and enjoy tasting the sake.
This brewery uses meltwater from the Daisetsuzan National Park — home to Hokkaido's tallest mountain, Asahidake. This flows out of fonts at the front of the building, next to a small garden space. It's thought drinking the water brings long life — no word on whether that effect carries over to the sake, but here's hoping.
The highlight is their number one award winning variety: Junmai Daiginjo. The brewery has been consistently winning gold medals for this sake and others for the past 40 years — it's a great place for seasoned connoisseurs as well as complete newbies.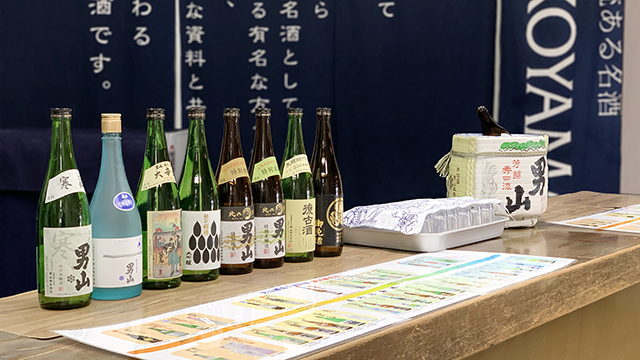 Hokkaido is an other-worldly experience that's rich with Japanese culture, history, traditions, fun, and lots of JAPOW.
Hokkaido is the place to visit, once the pandemic is over!