"OWN A PIECE OF THE LEGEND. After 42 years of service, the original Pallavicini chairlift will be retired this summer, and now is your opportunity to own a piece of Arapahoe Basin history. We will auction off 4 chairs for charitable causes and sell another 100. Your first opportunity to secure a chair is May 18-25, when we will auction one Pali chair to support local nonprofits. On June 1, the interest list for anyone wanting to outright purchase a Pali chair will open and remain open until June 22. "
The day is finally here, A-Basin has opened up bidding on 4 chairs of their recently retired Pallavicini chairlift. Proceeds to local non-profits so you can own a bit of Colorado ski history and while being charitable. Bids start at $2,500. PLACE YOUR BID HERE.

Timeline
May 18-25: Charity auction for the first chair on eBid
June 1-22: Purchase tickets for the chair sales interest list
June 24: Names randomly selected from the interest list
June 26: Lucky people notified that they can purchase a chair!
July 1: Final day for chair winners to claim and pay for their chair
Early July: Pickup will be scheduled and information sent to chair owners
Late summer / early fall: Keep an eye out for the Enduro party, Pali party and second eBay auction
Chair Auction
We will auction three chairs to support three, local nonprofits: two on eBid and one at the Pali Party (new date TBD). All of the money raised by these three chairs will be split evenly among the nonprofits. A fourth chair will be auctioned at the Enduro Party (new date TBD) to help two members of our A-Basin family who are facing significant medical bills.
Please read all of the info on this page to understand how this works. And good luck!
First eBid chair auction: May 18-25
Nonprofits receiving 100% of the funds (split evenly): Family and Intercultural Resource Center, Summit Community Care Clinic, Summit Foundation
Bidding is open to anyone (i.e. don't have to be a passholder)
Please read and understand eBid's terms and conditions before you bid
Please don't bid if you don't intend to buy the chair. You might actually win it!
You have the option to ship the chair, but you MUST pay for it separately and arrange ALL details, yourself (including packaging, pickup and transport).
Chair Sales
We will sell 100 chairs for $2,500, each (plus tax). Because we anticipate demand to greatly surpass supply, you must first purchase a ticket to get on the interest list. If you are chosen from the random selection process, you will then be able to buy a chair. The cost to join the list is $50, and a portion of proceeds from that fee will be donated to the Summit County Cares Emergency Fund. Please read all of the info on this page to understand how this works. And good luck!
Dates to get on the interest list: June 1-22
Cost to join the list: $50
Price of each chair: $2,500 + Colorado state tax
ONE ENTRY PER PERSON
Ticket sales open to 18 and older
Only one winner is allowed per household
Anyone can join the list; you don't have to be a passholder
June 24: Names randomly selected from the interest list
June 26: Lucky people notified that they can purchase a chair!
If we can't get ahold of you and you do not pay by July 1, you will forfeit your chair

This auction is for one Arapahoe Basin Pallavicini chair. This is the first of four chances to guarantee you will be the lucky owner of a Pali chair. Includes hanger and chair pad; the grip is not included. You do not get to choose the chair number.
After 42 years of service the original Pallavicini chairlift, aka the Black Jewel of A-Basin, will be retired and now is your opportunity to own a piece of A-Basin history. This double chair provided access to the ski area's best terrain and was a local's favorite.
This chair will be a collector's item for anyone who skied A-Basin and is something to pass down for generations. The stories that have been made on this chair are priceless.
One-hundred percent of proceeds from this auction will be  split evenly and donated to three non-profits providing critical services inA-Basin's home of Summit County, Colorado. A-Basin will help the buyer with obtaining donation receipts.
Thank you for bidding. Good luck!
Important Information for the Buyer
We strongly encourage the buyer to make arrangements to pick up their chair. The buyer may also arrange for a trusted proxy to pick it up on their behalf, but this must be communicated to A-Basin ahead of time.
A-Basin will accommodate shipping the chair but the buyer must arrange shipping and pay for it separately from this auction, including having the chair packaged, loaded and transported (A-Basin will not do these things).At this time, A-Basin is only able to offer minimal assistance and is not responsible for the condition of the chair upon its arrival via third-party shipping.
DIMENSIONS: The chair weighs 129 pounds. Dimensions are 120″x 62″ x 47" (10 feet x 5.2 feet x 4 feet).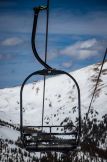 Featured Nonprofits:
Not only are these organizations integral to the health and success of our community members, they have also been on the front lines of Summit County's COVID-19 response. Thank you for learning more about them and joining us to support them via our chair auctions.
---
The Family and Intercultural Resource Center (FIRC) has been serving Summit County, Colorado, since 1993 in the ways of parenting education, emergency assistance and community support, a food bank, cultural integration and an affordable thrift store. It is a 501(c)3 nonprofit working to build strong families and a strong community by providing people with the tools and education to be successful parents and community members.
Summit Community Care Clinic is a Federally Qualified Health Center that provides a full range of integrated care services inclusive of medical, dental and behavioral health services through a team-based model of care. It is the only clinic in its 5-county service area that offers a comprehensive sliding fee scale, primary care to Medicaid and low-income, uninsured patients, and is the only safety net dental provider.
The Summit Foundation is a local community foundation providing leadership and resources to assist local working families, resolve critical community issues and preserve the quality of life we all enjoy in our beautiful mountains. Through the generosity of more than 3,000 donors, $35 million has been contributed to Summit County and our neighboring communities over the past 35 years.
The Summit County Cares Emergency Fund was established by the Summit Foundation in response to the COVID-19 crisis. It is a rapid response fund to provide grants for community partners that are addressing basic human needs.