There is a whole market that involves overcharging for niche items that solve niche problems. However, with a bit of ingenuity, a pair of scissors, or duct tape many of those problems can be solved for under $10 bucks. Here are 5 ski bum hacks that can save you a keg's worth of beer– I mean gear.
5) The Shin Bang Eliminator
Some products claim to completely "safeguard against"
 shin bang. The fact of the matter is shin bang can not be fully eliminated unless you give it time to heal. But there is a way to help with the pain without the help of vicodin or alcohol. Simply grab one of the 20 beer koozies lying around your ski bum house and put the koozie in between your shin and the cuff of your ski boot. Voila! A piece of foam might not eliminate shin bang but it sure as hell helps and at the price of .99, we'll take it.
4) Old Ski Sock As A Temporary Knee Support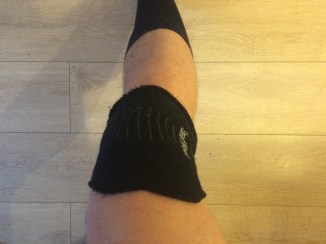 Often times skiers come just short of tearing a ligament in their knee. Strained knee ligaments can heal naturally over time but a little support and compression can greatly shorten that process. One way to provide extra support and compression is to cut an old ski sock's toe off. Then make a second cut above the ankle. Take the remaining material and slide up and over the knee where it feels comfortable. It's definitely not a medical grade knee brace but ski bums without insurance will take anything they can get.
3) Refresh Your Skins
This one is truly magic. The first pair of BCA Magic Carpet Skins
 I bought were almost ruined on their first use due to a friend's canine that liked to shed. At the end of the day, I pulled my skins from the cab of the truck to find them covered in dog hair. But by using this simple trick, those hairy skins were given a fresh shave without spending any money on new skins or skin glue. Thanks Max Mogren aka The Sheep Eater for the video.
2) Duct Tape Climbing Grips For Ski Poles
Many high price ski poles boast an ability to work in alpine situations by utilizing fancy looking climbing grips that translate into $80 poles. However, if you're not in the market for $80 poles, grab some duct tape and cut half the width off the and wrap the tape around until the thickness makes for an extra grip down the length of the pole. Now your Scott rental poles are ready for ski-mo.
Also Read: The Story of Duct Tape And How It Fixes the World
1) Dryer Sheet Boot Scent

Smelly boots can ruin any living room and there's not enough incense or liquid boot freshener in the world to cover up that smell. Instead, grab a couple dryer sheets and your boots will be smelling laundry fresh instead of like dead fish.