If balancing your board on your toe for a lift ride up is too much to bear you might like this new product that is about to launch on Indiegogo. The Ride Easy Line is a combination footrest and board lock that hooks on to a chairlift's safety bar to give your foot a rest while you upload.
I can imagine some resorts banning these things before they even get off the ground to avoid offloading pileups caused by people forgetting they are hooked on. Thoughts?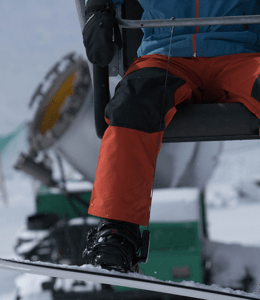 SELF-RETRACTING HOOK
The Ride Easy Line's patented technology keeps you safe on and off the chairlift. When you're ready to get off the chairlift, simply nudge the hook off the bar and watch the hook auto-align as it self-retracts into the housing within one second.
STRENGTH FOR WEAR & TEAR
Built with the strongest and most wear resistant plastic and steel materials on the market, the Ride Easy Line can support over 100 lbs of pulling force. It's also snowproof so you can shred hard on the slopes in the toughest conditions.
SNOWBOARD LOCK
The Ride Easy Line doubles as a portable snowboard lock so you never have to worry about leaving your board on the racks. At 55 cm long, it can wrap around any rack and multiple boards. Enjoy your lunch and extra time with friends.