An avalanche warning remains in effect for much of Colorado after a winter storm dropped 4+ Feet of snow in some locations across the state.
Related: Nipple Deep Powder | Rockies Are Scoring While The Sierra Remains On Hold
Of those locations, Crested Butte has seen the most snow with the resort reporting 65″ in the last 7 days. All that snow resulted in The Colorado Avalanche Information Center issuing an "Extreme" rating for the Gunnison region. The CAIC has since downgraded the avalanche danger to "High" while the new accumulations continue to settle and bond to older snow surfaces.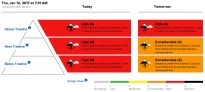 CAIC Avalanche Warning
An Avalanche Warning is in effect for the Gunnison Zone. A powerful and sustained winter storm dumped over five feet of new snow in parts of the zone and snow will continue on Thursday. Very large and very destructive avalanches are possible. Avalanches can run wider and further into the valley bottoms than normal. Avalanches can be large enough to break mature timber and can easily kill you. Travel in avalanche terrain is not recommended.
*Video courtesy of FOX 31 Denver