Models are "Off the charts" currently with incredible amounts of moisture aimed at the Sierra (3-5 feet in the next 2 days) and an additional 3-5 feet this weekend (High snow levels- Rain below 9,000). The Atmospheric River is aimed at Utah, Colorado and New Mexico for the short term. The Tetons and most of Idaho grab deep rewards next week.
Heavy snow is falling over most of the Sierra this morning. If your chasing powder consider any resort in the Sierra that can mitigate avalanche danger (Rapidly rising) with decent low angle terrain and better protection from winds (Gusts today 80-100 MPH). That might include spots like Homewood, Mt Rose, Diamond Peak, or spots closer to the lake. Heavy snow continues into Thursday morning (2-3 feet) over the entire Sierra Range. Mammoth will come out out ahead with 4-5 feet by late Thursday! It won't matter where you chase as you will be buried in the White room if you can get there and if lifts are turning! Next week is even more interesting (See extended).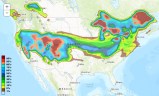 Moderate snow is falling in northern Utah and Colorado this morning (Beaver Mountain reported 10 inches overnight in Utah). Heavier amounts are being found towards Logan, Ogden and areas towards Steamboat in Colorado. A chase early this morning might include Beaver, Powder, Snowbasin, Steamboat where later today includes spots further south.
Moderate to heavy snow will drop south today over Colorado and Utah during the afternoon today increasing snowfall rates over the southern Wasatch, and Colorado Statewide. My gut tells me that Colorado will edge out Utah on this storm with 15-25 inches near Crested Butte, Irwin Lodge, Silverton by Thursday afternoon.
Most resorts in Colorado will fare best late today through Thursday as a cold front sinks down enhancing snowfall rates after midnight. "A wide area of 10-18 inches will fall at most Colorado resorts through Thursday PM with higher amounts in the Central zones (Crested Butte, Monarch)." Cold air will increase snowfall towards the front range Thursday morning (Enhancement near the Front Range). "You can't go wrong with chases on Thursday but amounts might tip the scales just north and south of I-70 (Steamboat, Monarch, Crested Butte, Aspen, Silverton). The cold front stalls over the southern sections of Colorado and northern New Mexico late Thursday AM through Friday morning. Significant snowfall might occur over Wolf Creek, Taos, Santa Fe Ski area late Thursday/Friday (Chase points for Friday morning).
UTAH: The northern spots of Utah will come out ahead today (5-10) where the southern Wasatch (Big and Little Cottonwood) catch up late today and tonight (15-20). Park City resorts should nab 6-12 inches through Thursday morning. The snow is going to come in with some warm air today and finish Thursday morning with lighter density (AM 1st chairs will be epic).
Light snow will continue in many spots on Friday morning however most will be focussed in southern Colorado, Utah and northern New Mexico.
Extended Forecast
SIgnificant atmospheric river event is setting up for the Sierra this weekend! Warmer temperatures rising snow levels to 8500-9,000 feet will occur early this weekend before colder temperatures fill in the back side of the system, Sunday/Monday. Expect 3-4 feet of additional snow at summit locations this weekend! Chases might include higher elevation resorts like Kirkwood, Mammoth, Mt Rose.
Deep leftovers are aimed at Idaho and perhaps the Tetons late in the weekend through early next week! An uptick of moisture is also evident for the Cascades and interior BC next week. The West is going to stay very active!
If you're addicted to powder and reading this forecast, please consider a donation to Powderchasers! For all donations of $50 or more you earn powder turns with Powderchasers, custom forecasts, and a swag Phunkshun Wear Balaclava! 10% gets donated to avalanche forecast centers in the West.
Donate here: Powderchasers Fund