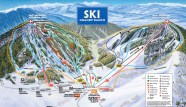 [Cover Photo: David Berkowitz]
A Texas woman is dead and two children are injured after falling from a chairlift at Ski Granby Ranch Thursday morning reports The Denver Post.
Emergency response personnel were alerted to the incident at approximately 10am this morning, at which point they rushed to the scene. They immediately transported the woman and two children (ages 9 and 12) to the Middle Park Medical Center in Granby, where the woman was later pronounced dead. One of the children was flown to The Children's Hospital Colorado in Aurora via Flight For Life, while the other remained in stable condition at the hospital in Granby.
So far, resort officials are unsure as to what caused the tragic event but they will be inspecting the lift along with the Colorado Passenger Tramway Safety Board, Grand County Sheriff's Office, and Granby Police Department.
*Our deepest condolences go out to the friends and family of the victim.
Find the entire Denver Post article here: Woman dies, two girls hurt after falling from chairlift at Ski Granby Ranch in Grand County