Heavy snowfall has fallen in most of the higher peaks of upstate New York and Vermont in the past few days. Northern areas of Vermont and southern Quebec saw 9-15 inches at upper elevations!   Light snow will fill into many areas tonight and Tuesday especially over northern Vermont, and western New Hampshire.Very cold temperatures under NW flow will bring 1-3 inches to many areas of northern New England tonight and Tuesday (Low elevation light snow).
Related: East Coast Snowstorm Roundup & Photo Tour
All attention turns to a very moist system that will move into New England Thursday afternoon through Friday. If I were chasing powder this weekend I would head to northern Maine but that's out of the question for me especially with a fine line of Rain/Snow depending on elevation. Besides I am in Boulder Colorado where it hit 78 degrees today!  Moisture breaks out over Vermont Thursday night with a somewhat warm and deep moisture tap.
Easterly winds may keep some valley locations on the cool side kicking of snow on eastern sides of the peaks with warmer air on the west creating a mix of rain and snow.  I don't expect a deep event with the initial surge of warm air and moderate moisture (Heavy rain in southern New England). The highest peaks of northern Vermont and New Hampshire may find 2-5 inches of wet snow early in the storm cycle before mixing or changing to rain.  Winds turn to the north with cooler air behind the front.  Rain/snow mix should switch to all snow by late Friday (Cooler- Light snow all elevations).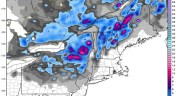 The Powder Watch has been issued for northern Maine where colder air may bring higher amounts of snowfall.  Currently some models show 3-6 inches and others show higher amounts (8-12).  Snow will most likely be falling at times possibly mixed with rain from Sunday River up to Sugarloaf.  The further north you travel stands the best chance for freshness.  As models narrow in amounts we will post an update! I feel the models are a bit overdone at this point but do expect some decent snowfall in the far north.
*Please follow Powderchasers.com and sign up for "Powder Alerts."  You can follow our active social media on Instagram and Facebook where unique content is posted weekly.