A system is moving through the western United States and Tahoe is already seeing its first snowfall at lake levels.
Powder Alert: Up To 18″ of Snow Forecasted For Northern Rockies
So far, the upper reaches of Squaw has seen quite a bit of snow but don't get the skis out just yet– a high pressure system is set to return to the Tahoe area, bringing with it mild fall temps and partly cloudy skies.
Coop's @Kirkwood Snow Report
Buenos Dias my friends,
Early morning, Cup'O'Joe in hand, Snow on the deck, temps in the low 30's, light wind… NWS forecast looking @Mostly cloudy skies today with scattered light showers. A return to drier and milder weather begins Tuesday. EXTENDED DISCUSSION (Friday THROUGH Monday) an upper level high pressure ridge will keep dry weather and seasonally average temperatures across northern California Friday and Saturday. Highs in the valley are expected to be in the upper 70s to mid-80's, and 50's/60's in the higher elevations.
Photo Tour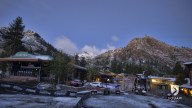 Kings Beach