With temperatures dipping below freezing in many parts of the US, skiers and snowboarders across North America are putting away the Chacos in exchange for a block of wax and and an edger.
Related: Meteorologists No Longer Expecting La Niña This Winter
And if you live in Montana, you might want to consider investing in a few candles of P-tex also as well. With skiers in the Big Sky state already scoring turns this past week, the September skiing trend is set to continue this week as snow continues to fall today on various parts of Montana and north-eastern Wyoming today.
Specifically, Ski Showdown is boasting some high snowfall totals and the Montana ski area has already hosted a Trump/Hillary snowball fight in addition to some dedicated grass skiing.
[ 6:30 AM 9/12/16 ] Beartooth Pass is now closed due to snowy conditions – MDT
That said, the winner looks to be the the Bighorn Mountains of Wyoming, which are forecasted to receive up to 8″ of snow by the end of Tuesday.
LET IT SNOW!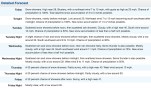 Snow Totals
6-8″ in the Bighorn Mountains
4-6″ on Beartooth Pass
Photo Tour
Winter Weather Advisory
…WINTER WEATHER ADVISORY IN EFFECT UNTIL NOON MDT TUESDAY…THE NATIONAL WEATHER SERVICE IN RIVERTON HAS ISSUED A WINTER WEATHER ADVISORY FOR SNOWFALL…WHICH IS IN EFFECT UNTIL NOON MDT TUESDAY.
* SNOWFALL…SNOWFALL OF 4 TO 8 INCHES IS ANTICIPATED THROUGH TUESDAY MORNING. THE MOST SIGNIFICANT ACCUMULATIONS WILL BE FOUND ACROSS THE NORTHERN HALF OF THE ABSAROKAS.
* IMPACTS…OUTDOOR ENTHUSIASTS SHOULD BE PREPARED FOR HEAVY WET SNOWFALL AND COLDER TEMPERATURES. HYPOTHERMIA WILL BE POSSIBLE. TRAVEL ALONG MOUNTAIN PASSES WILL BECOME SLICK AT TIMES… ESPECIALLY BEARTOOTH PASS WHICH MAY EXPERIENCE HAZARDOUS TRAVEL.
PRECAUTIONARY/PREPAREDNESS ACTIONS…
A WINTER WEATHER ADVISORY FOR SNOW MEANS PERIODS OF SNOW WILL CAUSE PRIMARILY TRAVEL DIFFICULTIES. BE PREPARED FOR SNOW COVERED AND SLICK ROADS WITH LIMITED VISIBILITIES. SLOW DOWN, AND ALLOW EXTRA TIME TO REACH YOUR DESTINATION. CHECK THE LATEST ROAD CONDITIONS AT WYOROAD.INFO OR BY DIALING 5 1 1.