While some Colorado residents are ready to put on their climbing harnesses and pump up the raft, it looks like mother nature has plans to shack up with Ullr for another week.
"Unsettled and cooler weather can be expected Tuesday and into the week as a series of systems take aim on the region." – NWS Grand Junction
With a steady storm system set to affect much of central Colorado over the next 6 days, Arapahoe Basin and Aspen Highlands are both looking forwards to some sleeper pow days this upcoming week. As of now, WePowder.com is forecasting 14″ for both resorts over the next 6 days, with peak snowfall hitting Highlands on Friday morning before arriving at The Beach on Friday afternoon.
Projected Snowfall Totals
Aspen Highlands – 14″
Arapahoe Basin – 14″
Loveland – 13″
Winter Park – 12″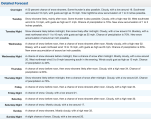 Loveland and Winter Park will also be spinning lifts for fellow Front Rangers and in their forecast, WePowder has both resorts receiving significant snowfall out of the coming storms. Right now, Loveland is forecasted to receive 13″ while WP should get near a foot of fresh in the coming days.
LET IT SNOW!
Find up-to-date snow forecasts here: WePowder.com