While dating apps such as Tinder, Hinge, and Bumble are finding strong footholds in cosmopolitan areas such as New York and Los Angeles, dating services for outdoor enthusiast communities remain largely ignored.
That is all about to change.
One tech startup out of Telluride, Colorado believes that tele skiers deserve love just as much as their suit wearing, subway riding, sellout counterparts in the city. Built as a tele-specific dating website, Tele-SkiersOnly.com employs an algorithm that compiles a multitude of variables to find matches amongst the free-heel dating pool. Variables include gluten preferences, favorite granola, and penchant for Sativa vs. Indica. However, before entering those specifics, subscribers will enter their age preference by choosing between NTN or traditional tele-binding setups.
When asked about a future app for the website, founder Sean "Acid-Drop" Williams pointed out that an app is unnecessary for most tele-skiers saying, "roughly 5% of tele-skiers have iPhones and out of that 5%, 100% of those iPhones are out of battery." Instead Williams hopes to focus on the desktop format of the website which he explained is perfect for his tele clientele.
"Most our users access the internet at their local library since WiFi remains expensive in most ski towns and having a personal computer is completely out of the question for most free-heelers."- Tele-SkiersOnly.com CEO and Founder, Sean Williams
Also Read: How Tinder is Changing Ski Towns For—E⎯VER!
The revolutionary idea originally came to Williams as he created a Match.com profile on a public access computer in Telluride's Wilkinson Public Library. The tele-entrepeneur was attempting to fill out his dating profile, when he realized that traits such as ambition, profession, and favorite dating spots didn't fit his preferences. "They wanted to know if I liked sushi or steak," said Williams. "I like PB&J's, Chai, and granola on most days" to which he added, "I've never taken any of my dates to a steakhouse."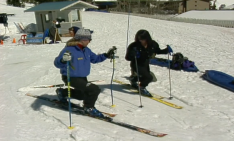 Instead, Tele-SkiersOnly.com will provide low-budget and romantic date options such picnicking in a favorite smoke-shack or sharing an IPA growler while watching the snow fall on the hood of a 1991 Subaru Legacy Wagon. Whatever the case, the website will connect tele-skiers and allow free-flowing compliments on each other's dropped knees to grow into beautiful, hairy relationships.
So far, the project is currently in the preliminary development stages, which Williams describes as being hampered by library employees who, "refuse to restart the wireless router or upgrade their out of date desktop computers."
Also Watch: Vintage Telemarking Lesson Gets Oddly Sexual