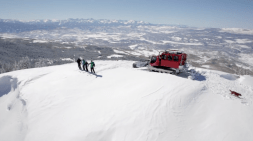 Move over Yellowstone Club… Cimarron Mountain Club just snatched your title for most exclusive ski area in the world.  
Located in the eastern San Juans of Colorado, Cimarron Mountain Club is making waves with a new model for a private ski hill that can only be described as Utopian. The private club is home to some of the best skiing in Colorado and with only 15 available memberships available, tracked out runs will never be a problem.
Did I mention, the only way to reach the area is by snowcat? Well– there's that too.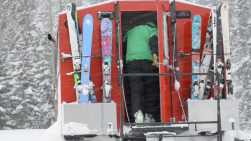 The brainchild of former natural resources lawyer, Jim Aronstein, The Cimarron Mountain Club is intended to be more of a wilderness refuge than an actual ski area. The mission is simple, Aronstein told the Denver Post, "The constitutional vision here is to retain the wilderness character of the place and to make sure there is pretty much always good powder to ski on the mountain,"
Sounds good to us…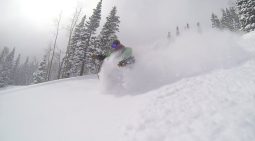 The 1,750 acre "private wilderness" area hosts a lodge with six guestrooms, as well as 3, 4-bedroom guest cabins on the property. That doesn't include the parcels they're offering up for sale, which all include deeds that allow owners to build cabins on their own private sites.
Don't have the funds for CMC? Check Out These Low-Budget Private Ski Areas…
What's more, the ski terrain is all time. From couloirs to glades and mini-golf lines to big faces, the area is completely and utterly rad– and with only twelve other units on the property, finding fresh tracks is as easy as it gets.
Cimarron Mountain Club Membership Info
Site prices range from $3.2-3.4 million
Annual dues are between $55-65k
Unlimited snowcat skiing
Guided skiing on North Mountain
Unguided Skiing on South Mountain (groomed regularly)
Future clubhouse will include a restaurant, bar, spa, pool and gym
Includes world class fishing streams and ponds
Summer/Fall activities include horse back riding, mountain biking, hiking, hunting, and climbing
Funny: Originally, Aronstein named most of the runs after Hendrix jams but his wife convinced him to change them back to more conventional names. The only remaining Hendrix runs are "Watchtower" and "Crosstown Traffic" but he is currently contemplating bringing back "Voodoo Child."
As of now, the plan is to keep CMC as rustic as possible, leaving chairlifts and roads out of future plans while retaining a wilderness atmosphere for years to come. If all goes according to plan, Utopia might exist and its name will be Cimarron Mountain Club.

Mountain Stats
Average Annual Snowfall- 
300+ Inches
Base elevation- 
9,820 feet
Summit Elevation- 
11,430 Feet
Vertical Drop- 
1,610 Feet
Skiable Terrain- 
1,000+ acres
Longest Run- 
Uncompahgre — 2.07 Miles