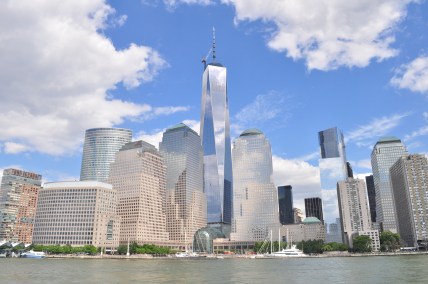 Image commons.wikimedia.org
On Monday, professional base-jumper, stuntman, and owner of Tandem Base LLC, Sean Chuma testified in the One World Trade Center Base Jumping case, calling Marko Markovich, Andrew Rossig, and James Brady "heroes" for their stunt. The case is ongoing and claims that three base jumpers put others in danger while performing their symbolic base-jump back On September 30 of 2013.
Chuma, who is an accomplished Base-jumper, contested the prosecutors claims and related their feat to daredevils who are able to control their landings and properly evaluate risks before jumping.
Marko Markovich testified a day later and was the only one in the group of three to offer his perspective from the night in question. According to Markovich, the group ate some slices of pizza, breached the surrounding barriers, and scaled 104 flights of stairs before collecting their gear and making the jump. In addition to giving his account of the stunt, Markovich described his proficiency with parachutes and base-jumping.
The final hearings are today, Wednesday June 17, 2015.
Base Jumping remains an illegal activity in most of the United States with the exception of Perrine Gorge in Twin Falls, ID and the New River Gorge Bridge, WV.