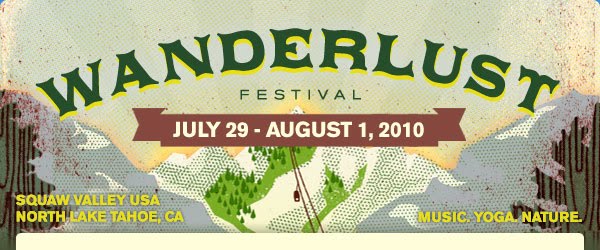 The biggest event in Squaw Valley this summer is the music, yoga and nature festivel known as Wanderlust. The official Wanderlust website tells us "WANDERLUST IS A ONE-OF-A-KIND YOGA RETREAT & MUSIC FESTIVAL IN A SETTING OF GREAT NATURAL BEAUTY. JULY 29 – AUGUST 1 AT SQUAW VALLEY USA IN NORTH LAKE TAHOE, CA."
Unlike last summers high camp event, this years festival will be held in the OVI parking lot which is not nearly as cool. Musical highlights for the 2010 festivel will be Moby, Brazilian Girls, Pretty Lights and many, many more.
"This mini-documentary explores the interaction between yoga and live music at the 2009 Wanderlust Festival. Features interviews with John Friend, Shiva Rea, Andrew Bird, Amanda Palmer, Elena Brower, Schuyler Grant, Doug Swenson and many more."
More info on the Wanderlust Festival, including the 2010 lineup, is available at www.wanderlustfestival.com.