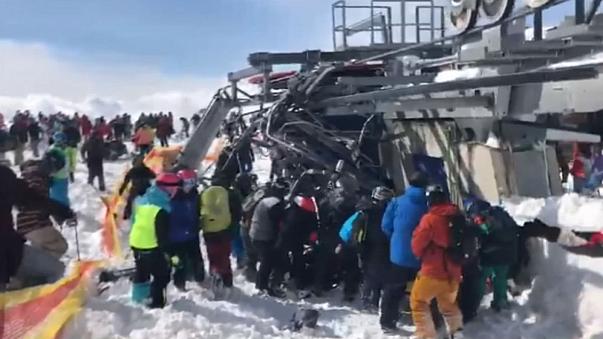 One of the scariest chairlift accidents ever occurred at Gudauri Ski Resort in the country of Georgia back in March of 2018.
Videos of skiers being tossed from the chairlift spread like wildfire on the internet as skiers and riders across the globe looked on with horror.
Clips from the original video have been embedded below. Fair warning to those of you that have not seen it before, it's pretty hard to watch:
At least 11 skiers were seriously injured in the incident.
The accident was initially believed to have been caused by voltage fluctuation or brake issues, but a French investigative firm determined it was human error that led to the terrifying incident:
"However, after the chairlift was stopped, the operator had to introduce specific sequence of procedures and after implementation of the certain actions, the operator had to switch the chairlift on to the diesel generator power and bring the tourist to the safe site where they would have left the chairlift.

Unfortunately, according to the current conclusion, the operator made a mistake. The combination of the actions that he should have had carried out were not implemented in compliance with the relevant instructions – it was a human error."

Essentially, the chairlift operator failed to turn on the backup generator, which caused the lift to rollback.
Georgia's Minister of Economy and Sustainable Development suspended the lift operator, and launched an investigation into the resort. Here's an excerpt from his statement back in 2018:
"Prior to the completion of the investigation, the authority will be suspended to the operator being on duty when the chairlift accident occurred. Issues related to charging of other liable persons will be detailed after completion of the official investigation."
The incident remains a seminal moment in chairlift safety for ski resorts across the globe.