The ski world lost an absolute legend with the passing of Pepi Gramshammer this past Saturday. Pepi had several strokes and a seizure in recent days, and had been spending time in a hospital in Denver but was recently transferred to Vail Health Hospital in Vail.  His wife Sheika Gramshammer said when he first rolled his room in Vail with a view of Riva Ridge he said: "Look, Riva Ridge, my favorite run."

SkyHi News
reports Pepi was a native of Austria, where he was a member of the national ski team. He was recruited to come to Vail in the fall of 1962  by Dick Hauserman, Pete Seibert, Morrie Shepard and Bob Parker, who wanted to add legitimacy to the new ski area by a having professional skier call it home. Gramshammer agreed but remained dedicated to his ski racing and spent the early season training in Aspen. It was there that met the love of his life Sheika.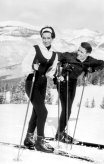 Gramshammer went on to start the Hotel Gasthof Gramshammer in Vail in 1964, which became a top employer in the area and remains in business today. He was well-known for enjoying skiing with his employees. Ernie Crates worked for Pepi in the 1970's and had this to say about his former boss:
"What was the best about Pepi was he loved to share the mountain."

You probably recognize Pepi's namesake runs Pepi's Face but you may not know Forever on Vail Mountain originated from a quote from Pepi, who skied it before there was a lift, saying it took "forever" to get back out.  Famously in December 2010 Pepi and Sheika were at the top of that run in full ski gear for the dedication of Chair 5's upgrade to a four-person chair where he addressed the crowd saying that he wasn't in favor of the decision to make it a high-speed chair:
"I said don't put it here because more people will ski down now."
There was a nervous tension throughout the crowd before Pepi added:
"Now I'm glad they did it. … You will get more ski runs!"

Vail Resorts issued this statement on Pepi's passing that sums up the indelible mark he has left on the area:
"He was a force for Vail from its inception and an inspiration to all of us. His contributions to the sport of skiing and to the Vail Valley, combined with his incomparable energy and passion for the mountains, will be forever missed and will continue to live on in spirit."
Here's a nice little video of Pepi and Sheika back in 2010. What a lovely couple. Rest in peace Pepi.