Since 2010 four people have died in tree wells at Whitefish Mountain Resort in Montana. The Flathead County Sheriff's Office is reporting the latest victim was 28-year-old Scott Robert Hornstra of Alberta who was found dead early Sunday morning in a tree well. Whitefish issued the following statement:
"We are deeply saddened by this tragic accident. Any death at our resort is an event that impacts the entire Whitefish Mountain Resort community. Our thoughts and prayers are with the family and friends as they cope during this difficult time. This accident is another unfortunate reminder that tree wells are an inherent risk of the sport. We encourage our guests to take extra caution when skiing in the trees and deep snow. Ski with a partner and keep them in sight. Call ski patrol immediately if someone is missing. Be as precise as you can in describing the trail name and location as well as the description of the missing person. We will continue to help our guests understand the risks and encourage educating themselves on this subject. An excellent resource for learning more about tree wells and deep snow safety is the website deepsnowsafety.org, which can be linked to from the Tree Well & Deep Snow Safety page of our website."
NBC Montana reports a study by The National Ski Area Association shows snow immersion suffocation is responsible for 60 fatalities at ski resorts nationwide. Please watch the video below and raise awareness about deep snow safety.  For more info please go HERE. 
"90% OF PEOPLE INVOLVED IN TREE WELL / SIS HAZARD RESEARCH EXPERIMENTS COULD NOT RESCUE THEMSELVES."
"A tree well/ snow immersion suffocation accident can happen when a skier or snowboarder falls – usually headfirst – into a tree well or deep loose snow and becomes immobilized and trapped under the snow and suffocates.
In an inverted position you can become trapped under the snow. Breathing becomes difficult as the loose snow packs in around you. Without immediate help from your partner, you may suffocate.
Prevention of falling into a tree well or areas of deep snow is all-important because the odds of surviving deep snow immersion are low.
90% of people involved in Tree Well/ SIS hazard research experiments could NOT rescue themselves. If a partner is not there for immediate rescue, the skier or rider may die very quickly from suffocation – in many cases, he or she can die as quickly as someone can drown in water."
If you venture into UNGROOMED terrain:
Ride or ski with a partner and keep your partner in sight at all times.

Ski or ride in control.

Give tree wells a wide berth. Look at the open spaces between trees not at the trees.

Skiers should remove ski pole straps.

Carry safety equipment including:

Cell phone with resort emergency number

Transceiver / beacon

Avalung

Whistle

Shovel

Probe

Recco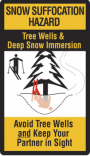 images from whitefish fb & deepsnowsafety.org