Democrat and republican skiers alike have both been guilty of the worn out declaration, "if he [or she] wins the presidency… I'm moving to Canada."
Related: A Skier's Journey – China
The problem with this statement is the obvious and often overlooked fact that it's very difficult to obtain a long term visa, let alone Canadian citizenship. However, Canada is not the only option.
Here are 4 foreign ski town to consider if the election doesn't go your way.
Chamonix, France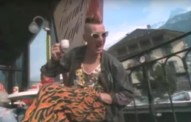 From Hemingway to Glen Plake, France continues to open its doors to American contrarians. Although expensive, nabbing a European visa is not only possible but fairly easy if you're good at paperwork. So grab a language visa and a harness– you'll need them both.
Ex-Pat Benefits
European work schedule = "Ça va"
Glacier skiing year-round
Go To Ski Area: Les Grand Montets
Otaru, Japan
On the northern coast of Hokkaido lies Otaru. This sleepy seaside community boasts unbelievable sushi, awesome ski hills above the ocean, and it's just 30 minutes away from world-class resort skiing @Kiroro.
EX-PAT BENEFITS
Onsens > Hot Tubs
Japow > Cold Smoke
Go To Ski Area: Asari
Sochi, Russia
Think Russia will take advantage of the newly inaugurated Candidate? Then it might be high time to head back to the mother land and settle down in Sochi… What could go wrong?
EX-PAT BENEFITS
$1 USD = 62 Rubles
Residency behind the iron curtain is safer than it seems?
Go To Ski Area: Krasnya Polynana
Las Leñas, Argentina
There's a reason former Nazis fled to South America after the allies toppled Hitler's Germany. The Andes are the definition of "off the grid" and with what may be the worst WiFi access in the world, you'll never have to see a politically charged Facebook post ever again.
EX-PAT BENEFITS
No WiFi
Heli terrain accessed via 2 man lift (TS Marte)
Go To Resort: Las Lenas