The snowmakers @ArapahoeBasin and @Loveland are getting some much needed help from mother nature today after approximately 6″ of snow fell on the resort last night.
Related: Loveland Ski Area Starts Blowing Snow | Plans To Open This Month
While no opening date has been announced as of yet, unofficial sources are saying that lifts could start spinning be within a week– fingers crossed. As far as the race goes, Loveland has been making snow for 61 hours straight while Arapahoe Basin starting making snow almost 50 hours ago.
"No opening date planned yet. You'll hear it first from us on social on Facebook, Twitter, and Instagram as soon as we announce an opening day. We normally know about 24 to 48 hours in advance." – Arapahoe Basin Facebook Page
We'll just have to wait and see if that 10 hour head start will result in Loveland opening first…


Photo Tour
Arapahoe Basin

Loveland Ski Area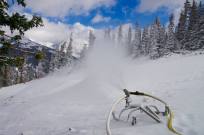 [Loveland photos courtesy of Dustin Schaefer / Ricoh Imaging]
LET IT SNOW!