Colorado is called "Ski Country USA" for good reason. The Rocky Mountain state is home to an impressive 29 ski areas, all of which boast some of the best terrain and snowfall in the country. However, the state may be swapping out "Ski Country USA" for "Weed Country USA" if the recreational marijuana business outgrows its skiing counterpart and so far it appears as though it will happen in the next 2 years.
Related: Colorado Pot Sales Could Exceed $1 Billion This Year!
As of 2015, The marijuana industry has already grown into a $2.7 billion industry reports The Post Independent. Marijuana sales alone sky rocketed in recent years thanks to legislators legalizing recreational use in 2014. So much so, it has some wondering, will Colorado be known for its tree skiing or tree smoking?
"Since the first retail marijuana stores opened on January 1st, 2014, the state of Colorado has benefitted from a decrease in crime rates, a decrease in traffic fatalities, an increase in tax revenue and economic output from retail marijuana sales, and an increase in jobs."  – DrugPolicy.org
If current estimates are correct and barring sweeping legislation from the someone like Donald Trump, many experts see the industry growing into a $10 billion dollar industry by 2018. As of today, the ski industry in Colorado contributes $4.8 billion to the state's economy.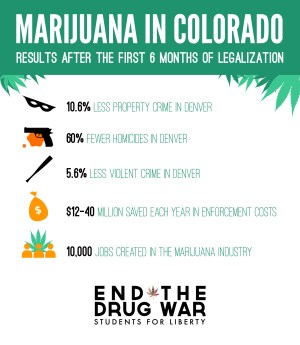 Needless to say, it's going to be hard for the ski industry to do half as much business as their toking counterparts because in the end– it's a lot easier to sit on the couch and smoke weed than it is to put on your ski boots and smoke weed.
Find the entire Post Independent article here: Can the pot industry one day rival skiing?