The Suicide Six ski area in Pomfret, Vermont has closed one of its lifts after finding fractures in two of its supporting towers reports the Valley News. A group of inspectors discovered the structural damages after a series of lift malfunctions across the country prompted resorts to double-check their safety measures.
Related: Chair falls from lift @Heavenly
In addition to the cracks in the lift towers, inspectors found undue stress points that could jeopardize skier safety down the road. Subsequently, the ski area will remain closed through Thursday as a private company makes repairs on the damaged lift prior to the next inspection.
Also Read: Chairlift Pole Collapse Sends More Than Two Dozen People Plunging To Ground
However, while many skier's nightmares have been brought to bear by the recent chairlift related incidents, the National Ski Areas Association still claims that riding a lift may just be one of the safest modes of transportation in the United States. Since 1993, there have been 0 fatalities related to lift malfunctions. Human error on the other hand, well that's another story.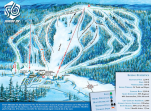 Find the entire Valley News article here: Safety Concerns Close Suicide Six Ski Lift