Along with an avalanche watch, a winter storm warning has been issued for much of Colorado as a system blows into the area today. 
Areas including Vail, Aspen, Monarch, and Crested Butte are forecasted to receive a large amount of snowfall with some areas waking up to 2 feet of fresh by Wednesday morning!
Powder Day in Colorado!
Forecasts are confident and even thought the Winter Storm Warning is due to expire on Wednesday, more accumulation can be expected throughout the holidays, with Christmas day looking especially white. Hopefully, ski bums in Colorado can escape their job for at least and hour and score some much deserved powder turns in honor of St. Nick.
NOAA Forecast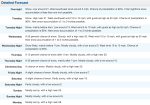 Winter Storm Warning
…WINTER STORM WARNING NOW IN EFFECT UNTIL 6 PM MST WEDNESDAY…
* LOCATIONS INCLUDE THE CITIES OF…COLUMBINE…TOPONAS…
SKYWAY…ASPEN…VAIL…SNOWMASS…CRESTED BUTTE…TAYLOR
PARK… MARBLE…BUFORD…TRAPPERS LAKE.
* TIMING…SNOWFALL WILL CONTINUE…BECOMING HEAVY AT TIMES… THROUGH WEDNESDAY AFTERNOON.
* SNOW ACCUMULATION…10 TO 20 INCHES. UP TO 2 FEET OR MORE ON HIGHER WEST FACING SLOPES.
* WINDS…WEST 15 TO 25 MPH WITH GUSTS UP TO 45 MPH.
* IMPACTS…ROADS…INCLUDING MOUNTAIN PASSES…WILL BECOME ICY SNOWPACKED. GUSTY WINDS WILL CREATE BLOWING SNOW AND VERY POORVISIBILITIES FOR EXTENDED PERIODS OF TIME.
PRECAUTIONARY/PREPAREDNESS ACTIONS…
A WINTER STORM WARNING MEANS SIGNIFICANT AMOUNTS OF SNOW ARE EXPECTED OR OCCURRING. STRONG WINDS AND BLOWING SNOW ARE ALSO POSSIBLE. THIS WILL MAKE TRAVEL VERY HAZARDOUS OR IMPOSSIBLE.

Colorado Avalanche Information Center Weather Discussion
A potent winter storm is barreling down on Colorado, and some healthy snowfall is already reported in scattered locations from Steamboat, Monarch Pass, Crested Butte, and through the San Juan Mountains. Another surge of moisture is riding into Colorado in the driver's east of a strong jet stream. Heavy snowfall will continue through today, and once again there will be some big winners, with other locations only picking up modest snowfall. Snowfall intensity will peak during the morning hours (up to 2 inches per hour) and then transition to lighter snowfall by this afternoon. Moderate to strong winds out of the west-southwest will accompany this new snow. 
Light orographic snowfall will continue overnight and nighttime lows will drop to around 10 degrees. There is a brief lull in the action Wednesday morning before snowfall picks up again in the afternoon. Southwest flow will strengthen ahead of the next Pacific trough. Unsettled weather with additional snowfall for the state will continue through Christmas.