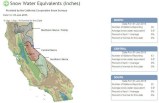 It's official. This is the worst year for snow in California's recorded history. As of now, every SNOTEL site is currently at 0% average snow depth and California reservoirs are only holding 58% of their average capacity.
KVPR recently interviewed Maury Roos, who works with the California Department of Water Resources and commented on the historical significance of this report. "I think the previous low year would be back in the drought of 1977, and at least then we had 25-percent. This year we have the lowest snow pack ever measured," said Roos
As water consumption is being limited via regulations and penalties, more serious policy changes are being planned in the event of a continued mega-drought. What those are yet has yet to be decided.