The snow was absolutely dumping out of the sky. You know when it snows so hard that it's kind of a nuisance? I mean I love powder skiing as much as the next guy, but sometimes mother-nature can really turn it on.
My friends and I wanted to keep skiing through the day, but the dense powder was doing a number on our legs, it was time for a drink.
We barged our way into the busy lodge with nothing but beer and chili on our minds. This was going to be a quick stop. Refill, refuel, and re-motivate ourselves to get back out there for every turn possible on the fresh 18″ of snow (and counting). I had no idea what we were getting ourselves into.
I returned to our table with my bread bowl of chili, a beer, and significantly less money in my bank account. My friends were all getting settled when our buddy, we'll call him Shaun, arrived at our table.
"This is Monica. I just met her in the chili line, she's a shaman!", Shaun said with a glimmer in his eye that would intrigue even the dullest of people. Shaun went on to explain how him and Monica met.
Remember how I said it was dumping snow? Well our buddy Shaun happened to have quite the beard at the time, and he was sporting a respectable "snow-beard" while waiting in line. This is important to know because Shaun's ice-beard was the catalyst for the rest of this story.
"Wow, I feel like I've met you before?", said Monica to Shaun as she stroked his frozen facial hair. Yes, you read that correctly- Monica started touching a complete stranger's facial hair in the middle of a ski lodge. That might make most people say, "Uh… what the hell are you doing?", but not my buddy Shaun. He ate it up.
They kept talking in the chili line. Monica shared that she was in Utah on a retreat, and that she is a practicing shaman. Shaun insisted on introducing her to the group. I don't know if his motives were honest, or in jest, but either way he brought Monica over to us.
I should probably explain a few things about Monica's image. Keep in mind that we are crowded at a table in a steamy ski lodge during a massive powder day. She was probably in her early-30s, and was wearing clothes that didn't seem appropriate for the weather, notably a knit hat that looked soaked from the blizzard.
She was friendly, conversational, and seemed like a genuinely nice person. She told us where she was from, her job, etc. Then my other friend mustered up the courage to address the elephant in the room when he asked, "So what do you mean you're a shaman?". The can of worms was opened.
I won't get into the nitty-gritty of the conversation, and instead will summarize the discussion topics:
She told us how she can teleport.
She witnessed a fellow shaman pull a tumor from a terminally-ill patient.
She told my friend that he seemed "sexually frustrated"
She showed us pictures of ice crystals she said were formed with her mind.
She asked if we wanted to hang out that evening.
I wish I had that conversation recorded. It was the most engaging conversation I'd ever participated in, and oh yeah- we said yes to hanging out with her that evening.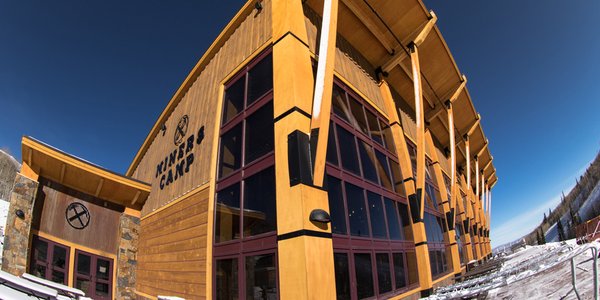 My buddy Shaun got Monica's number and agreed to coordinate our plans for the evening. I looked down at my phone. Our 15-minute lunch pit stop had turned into 1.5 hours of insanity. We had just missed out on at least four runs in A+ snow conditions, but none of us even noticed.
The ski day was exhausting. Exhausting enough to make a group of twenty something year-olds want to stay in for the night. We were beat.
Monica showed up around 8pm with a bottle of wine, and that same jovial smile that greeted us in the lodge. We were in for a night.
The rest of the night was filled with Monica reading our chakras, attempting to create ice crystals in our freezer, saying she could turn our hot tub into gelatin (if she had more energy), and other hilarious conversations about my friend's supposed "sexual frustration".
I didn't really trust that anything she said was truthful, but I learned something. I learned the value of kindness, especially at a ski lodge (I guess). Sure, Monica might have seemed a bit crazy to me, but she was a person with unique perspectives that I actually found valuable. She had a resoundingly positive outlook on life, something I know I need to work on.
It also furthered my belief in the good of skiing. Skiing brings people from all walks of life together over the love of sliding on snow. Isn't that incredible? I guarantee I would have never met somebody like Monica without the shared love of skiing, and my bold friend.
I hope that I continue to meet skiers of varying backgrounds like Monica. I just might not invite them over for dinner next time…