Alright, so last week I had a little bit of fun writing about Vail as a "Hidden Gem". Obviously that was satire, but according to the Facebook comments, I clearly fooled some of you.
Today I want to talk about one of my favorite mountains, Powder. Now I know some of you will argue,
"Powder Mountain isn't hidden, everybody knows about it!"
Well I beg to differ. Compared to the spotlight on The Cottonwoods, Park City, and Deer Valley; Powder Mountain is still unknown for a lot of skiers and riders out there.

I know what you're going to say next:
"Matt! If you reveal all of the Hidden Gems, they won't be hidden anymore! My mountain is going to be filled with Jerrys, and tourists." 
Yeah, okay, maybe a few people read this post and decide to visit Powder Mountain for the first time this season. But is one post going to flood your mountain with an insane amount of tourists? Probably not. I wouldn't have visited Powder Mountain if I hadn't heard about it online. I'm just a guy from the east trying to share my wealth of ski resort knowledge with the commoners. Let me enlighten those folks who haven't heard of Powder on the beauty the mountain has to offer.
Okay rant over. Let's get into the good stuff.
Powder Mountain is one of North America's largest ski resorts by skiable acreage. The resorts boasts 2,800 acres of lift serviced terrain, and another ~6,000 acres accessible by snowcat or skinning. With stats like that, one would think, "Okay, what's the catch?". There isn't one. Powder is only 55 miles from SLC International, it receives over 500″ of "The Best Snow on Earth", and caps lift ticket sales to just 1,500 passes per day. With all those acres, chances are even 1500 people at Powder won't clog up the lift lines. It's a powder skier or boarders dream. Check out the mountain stats below.
Summit Elevation: 9422 ft.
Base Elevation: 6900 ft.
Vertical Drop: 2522 ft.
Average Snowfall: 500″
Typical Season: December-April
Night Skiing: Yes (300 acres!)
Number of Lifts: 9
Number of Trails: 167
Cat Skiing: Yes (>4000 acres)
Side Country Skiing: Yes (1,200 acres)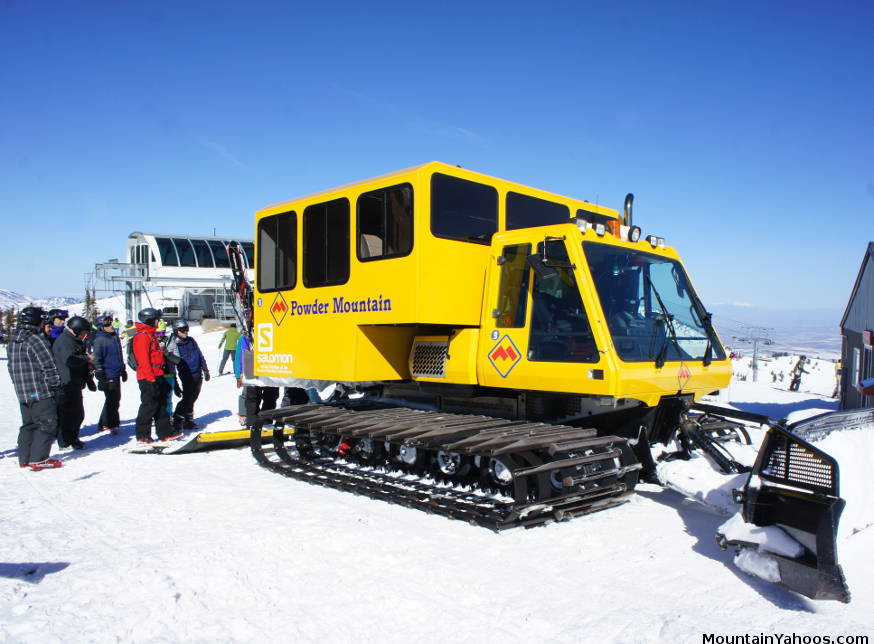 Powder Mountain's Snowcat skiing is next level, and cheap. Take laps on untouched powder on Lightning Ridge for only $25 per ride with a normal day pass. For more remote back country access, sign up for DMI or Wolf Creek tours for around $350/day.
I hope some of you take my recommendation and check out PowMow at some point. Get away from the crowds and fancy lodges of PC for a day. Thank me later.