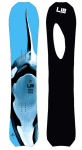 Travis Rice might have missed his calling as late night infomerical guy who wears a microphone headset and has endless energy. Just watch this video of his new board "The Orca" and tell you me you aren't reaching for your wallet at the end. Tough luck though because the Orca is out of stock but I'm sure they will similar designs coming from Lib with more of this this breakthrough tail technology:
"Not your gutless fish. Travis has juiced up this Jackson Hole resort slasher/pow ripper into an apex all terrain tech shred predator. A long floaty nose, combined with powerful, poppy contact maximizing short radius Whale Tail Technology. A tight 7M trench gouging sidecut. Enough width to allow you to really put it on rail on hardpack with no toe drag and to float pillows like a dream, but still narrow enough to be your daily driver all season long. Take it to Alaska, drop BC pillow lines or blow minds shredding the home resort all season. A mammal to eat all fish."





p.s. for real if you sell skis and snowboards for a living you might pick up a few one liners from Travis that will help you lock down the next customer, boost your comish, and get to spend some more time on the hill. Always Be Closing.