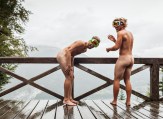 [All photos Property of Florian Schüppel via Naked Optics]
A goggle company in Austria is using a tried and true method of marketing to push into an industry dominated by big names such as Giro, Smith, and Oakley.
Related: Lindsey Vonn Poses Nude With Nothing But Ski Poles For New Book
Staying true to its name, Naked Optics has utilized world-class photography by Florian Schüppel to create a brand identity that is– you guessed it– related to the scantily clad human form. But that's not the only reason to buy their eyewear. The brand boasts reasonable prices accompanied by quality lenses that are perfect for young skiers on a limited budget.
"After having worn the expensive UVEX spectacles for years in racing, I was drawn to NakedOptics by a good friend. I'am very satisfied with the quality of customer service and of course– the price tag of the goggles. " – Luke Rehm
Among their wide array of products, their premiere men's goggle seems to be "The Force," which allows for interchangeable lenses in addition to boasting a world cup fit. If you don't like them, get your money back within 14-days of the purchase!
About Naked Optics
We are a young, dedicated and skisport enthusiastic team that specializes in high quality and trendy ski goggles at reasonable prices. We work with professional and state-certified ski instructors to constantly test new designs and features and make our spectacles unique. We particularly want to score points with young people and students with our attractive prices and make it possible to make unforgettable rides.
Find out more here: Naked Optics