It appears as though the Pineapple Express is in a giving mood as Kirkwood is currently reporting upwards of 23″ on its summit this morning. That said, this storm system is far from over and another winter storm is projected to move into the greater Tahoe area on Sunday!
So far, forecasts are calling for up to 2+ feet in the high mountains of the northern Sierra by Monday morning.
"A weather system moving across the west coast will bring scattered showers to most of Northern California today. There will be a brief break in the shower threat on Saturday as another Pacific storm system approaches. This next system will start bringing rain and mountain snow to northern California on by late Saturday. Periods of heavy rain/snow and strong winds are expected on Sunday. The system is expected to shift east of the region by late Monday with a fairly dry forecast in store for the remainder of the week."– NWS Sacramento 
Donner Pass and Carson Pass should both see major snowfall totals out of the system with the Lake Tahoe area falling a bit behind. So far Tahoe is only forecasted to get up to 5+ inches by Monday morning but we wouldn't be surprised to see that total change over the coming days.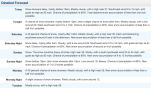 NOAA's Winter Storm Watch
…WINTER STORM WATCH REMAINS IN EFFECT FROM LATE SATURDAY NIGHT THROUGH LATE SUNDAY NIGHT…
* MAIN IMPACTS: TRAVELERS MAY EXPERIENCE VERY LONG DELAYS. CHAIN RESTRICTIONS PROBABLE. POOR VISIBILITY WILL MAKE FREEWAY SPEEDS VERY HAZARDOUS. STRONG WINDS MAY MAKE DRIVING DIFFICULT.
* CONFIDENCE…MODERATE
* TIMING…SNOWFALL BEGINNING OVER THE HIGHER ELEVATIONS OF THE NORTHERN SIERRA LATE SATURDAY NIGHT WITH SNOWFALL CONTINUING THROUGH LATE SUNDAY. STRONGEST WINDS ON SUNDAY DECREASING SLOWLY SUNDAY NIGHT.
* LOCATIONS…THE NORTHERN SIERRA WILL SEE SNOWFALL ABOVE 5000 FEET. THIS WILL LIKELY IMPACT ALL MAJOR NORTHERN SIERRA PASSES.
* SNOW ACCUMULATIONS…SNOW ACCUMULATION BY MONDAY MORNING ARE EXPECTED TO REACH 15 INCHES AT THE 5000 FOOT LEVEL AND UP TO 2 FEET AT THE HIGHEST ELEVATIONS.
Time for a ski burn?