The next two days brought us a little surprise as there were a few fresh inches out there, and it actually allowed a lot of higher backcountry terrain to level out after seeing a good amount of ski traffic since our last round of precipitation. Of course it was also pretty cool to get a few inches of fresh on the 26th, so we could send some Tahoe love Shane's way, and then the weekend sort-of left the ambiguous thoughts of "will it warm up and corn", or "can I find some pow somewhere". Check out Mattias' post from his mission of sledding on Shane's day and there's your answer.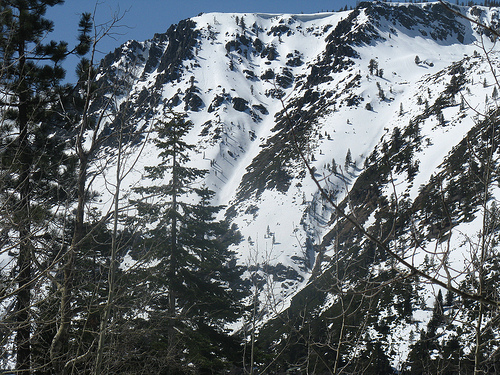 I was able to find the mix throughout the week, from uber sick corn, to fast and smooth powder, and no doubt my best turns were dropped from Fallen Leaf Lake to the Emerald Bay Chute zone. The Fallen Leaf Lake area has seen some melting out, but the "Box Car" and "Camp Chutes" were definitely enough fun for some early week corn hunting. Great chute and couloir skiing right down to the Lake, and the scoping of Indian Head and the far-off Crystal Range showed there are great missions to be had out that way if anyone is looking to ski Hall of the Gods or maybe Pyramid Peak.
As good as the sessions out there were, reports from a few skiers who've been shredding the South aspects and chutes near the backside of Tallac were enough to make a couple of missions out there, with buttery corn skiing to be had all over those sections of the mountain.
I also had a great day skiing with Tom Day, aka the man, as we and our dogs had a great afternoon mission out in the Emerald Bay Chute zone. We weren't sure what to ski as we ascended last week, but as we cruised up one of the more scenic spots to backcountry ski around Lake Tahoe, we settled on skiing the Eagle chute. The funny (and amazing) thing was, as we did the final traverse over to the top of the chute, there was not only porn snow hiding, but legit, old, cold, powder.
The top of the chute offers a sick view of seldom skied Crag Peak, Phipp's Peak, and the Crystal Crag which is just screaming for an epic shredder crew to get out there and slay its flanks (hint, hint). The rest of this vantage point shows little ripples and seldom touched areas in Desolation that look worthier and worthier as ski objectives each time I head up there. And then there' the water; Lake Tahoe, Emerald Bay, Fallen Leaf Lake and Cathedral Lake all encompass your view when you're clicking in.
So after taking in the amazing views, Tom and I were left trying to figure out whether to ski corn, pow, or both. But with no major film equipment to lug or set up, the mission was clear enough to just let'em rip. The right side of the chute was great powder, and the sliding traverse out riders left was smooth corn. We traded leads down the chute, keeping our three dogs in check, and were just stoked as could be to get some soft pow and super smooth corn all the way to the car.
As we start the final week of March and head into April, the weather's taking another turn. Doesn't look like we'll be skiing much corn this week, and if the wind is howling (which it will be) and the sun isn't out, at least it looks like old man winter is making a comeback. Well, the first blast looks a bit warm with snowline close to 8 thousand feet, but that will quickly change for Tuesday when we are scheduled to get the full-on reset. I love when the reset button gets hit this time of year because we'll get powder for a bit, and the rest of the backcountry will smooth out to set up good turns for the weeks ahead.
Keep an eye on the SAC website (www.sierraavalanchecenter.org) to monitor how much snow falls, where the winds deposit it, and how conditions rapidly change during this week. They definitely will, so Monday's Low avalanche rating will definitely be elevated and morphing as the week progresses. No one's sure exactly how the storms will pan out, but what's out there shows snow all week, and the backcountry, and Squaw, will be holding something good for us all. Welcome back to winter!